Looking for quotes by XXXTENTACION? Here we have compiled 71+ quotes and lyrics from the late but great rapper XXXTENTACION, hope, you will find his words relatable.
Jahseh Dwayne Ricardo Onfroy, known professionally as XXXTentacion and commonly referred to as simply X, was an American rapper, singer, and songwriter.
Enjoy our collection of best XXXTENTACION quotes and song lyrics for inspiration.
Grow your wings, fly away, fly away, fly away.

– XXXTENTACION
XXXTENTACION Quotes
1. "Be kind to one another, even when it's not requested." – XXXTENTACION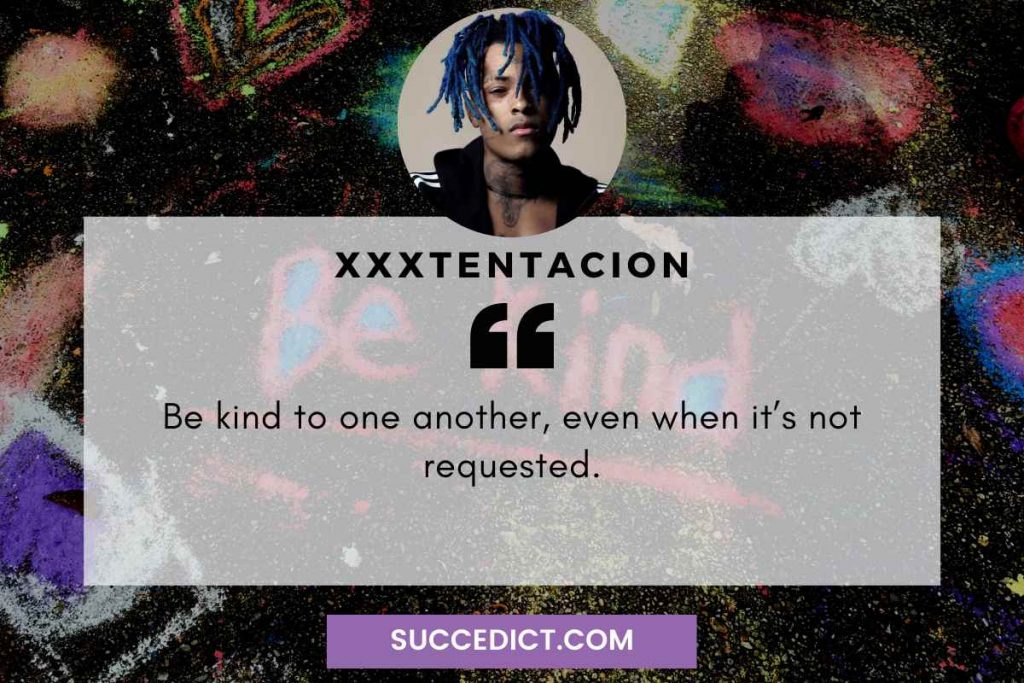 2. "In life you don't need a lot of friends, just the right ones." – XXXTENTACION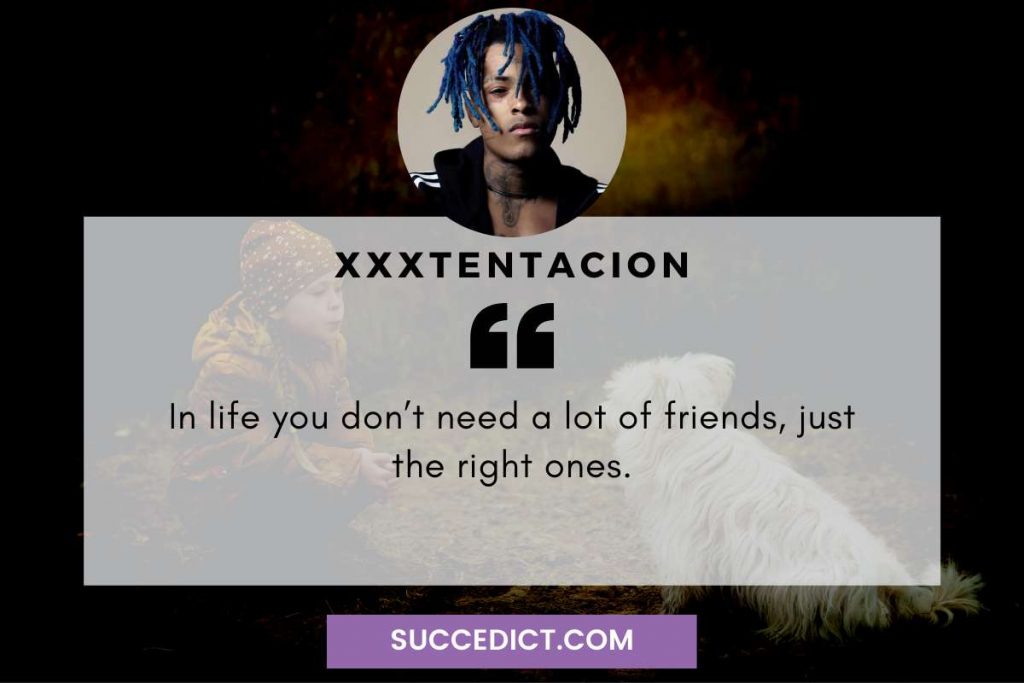 3. "The most important thing is that, when you get knocked down, get back up." – XXXTENTACION
4. "Nobody will ever completely know you." – XXXTENTACION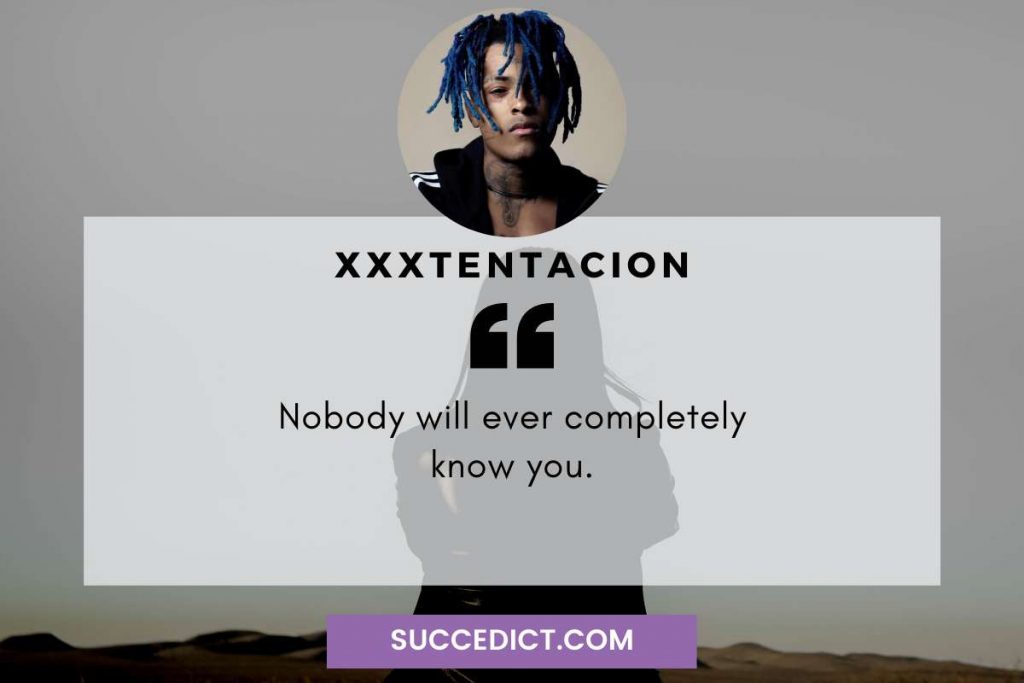 5. "If we live in a world governed by feeling and emotion, let's just make sure it's a good one." – XXXTENTACION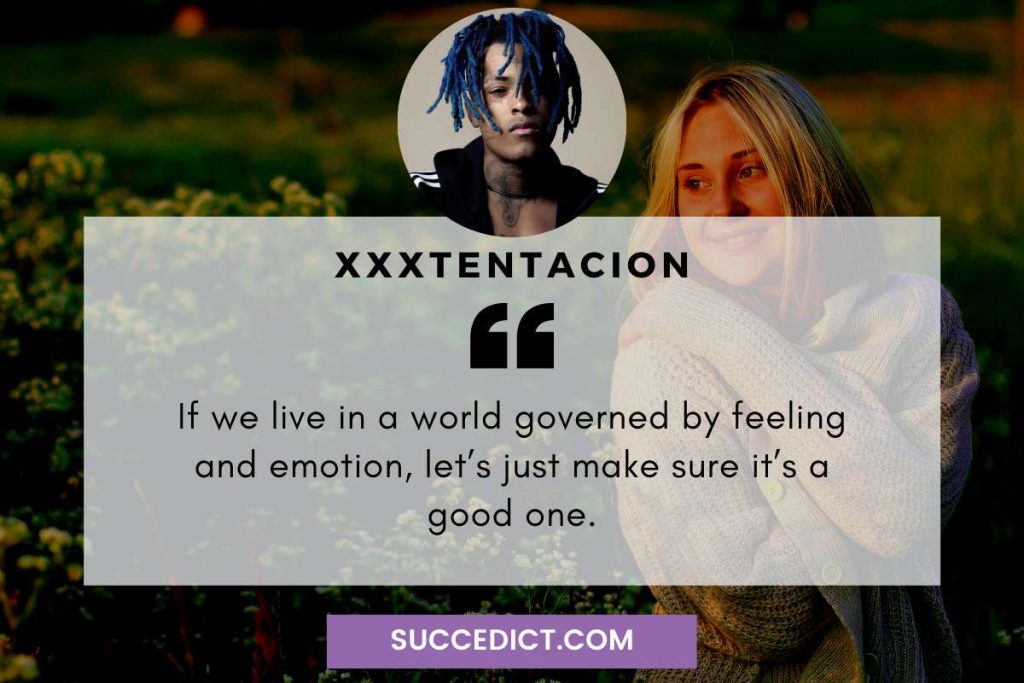 6. "Depression and obsession don't mix well." – XXXTENTACION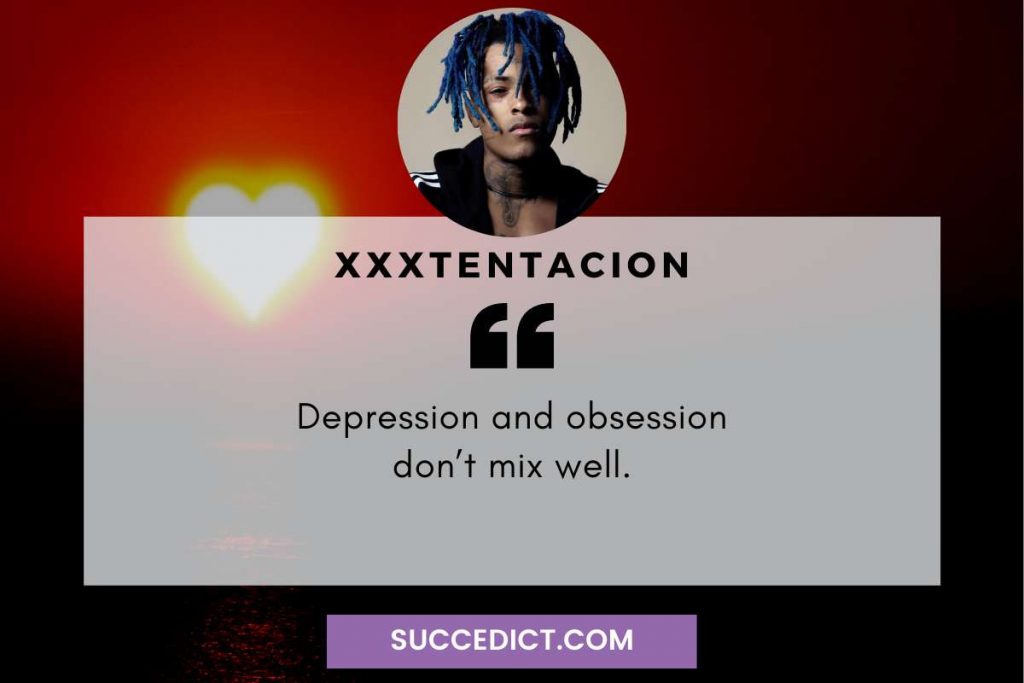 7. "You can't do good if you're wishing bad on others." – XXXTENTACION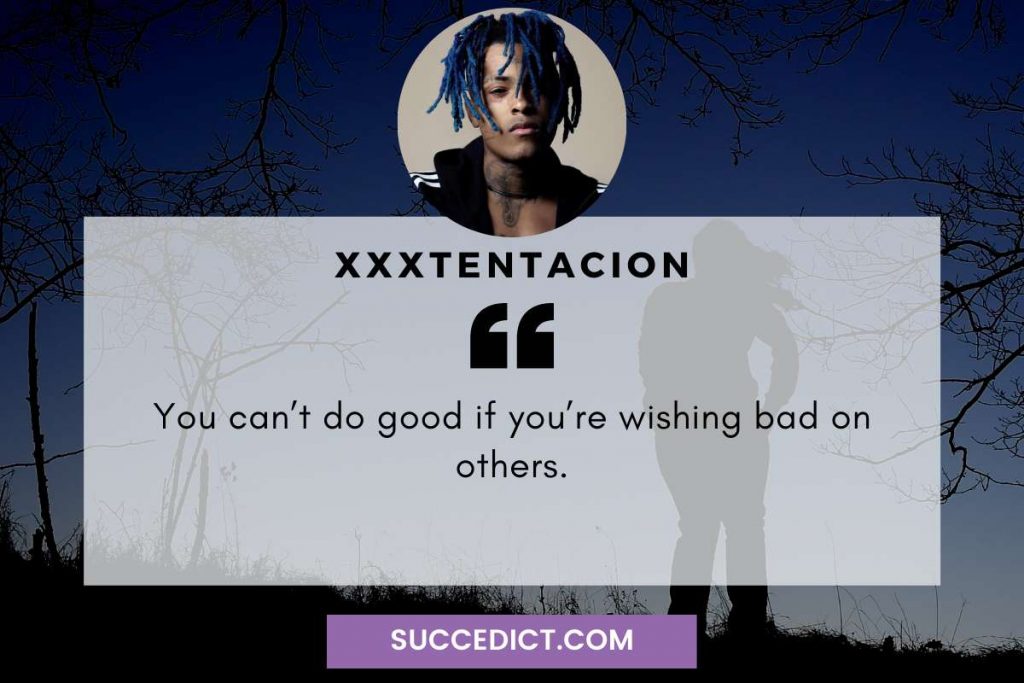 8. "The worst feeling in this world is knowing you did the best that you could, and it still wasn't good enough." – XXXTENTACION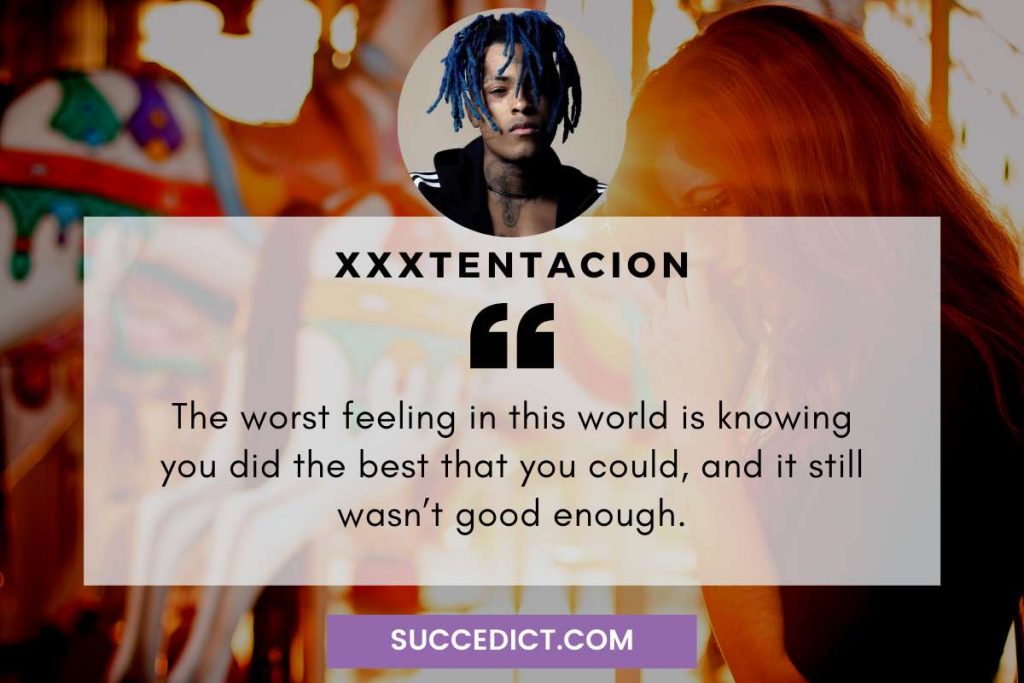 9. "Demonstrate care for the youth's future, white or black, black or white." – XXXTENTACION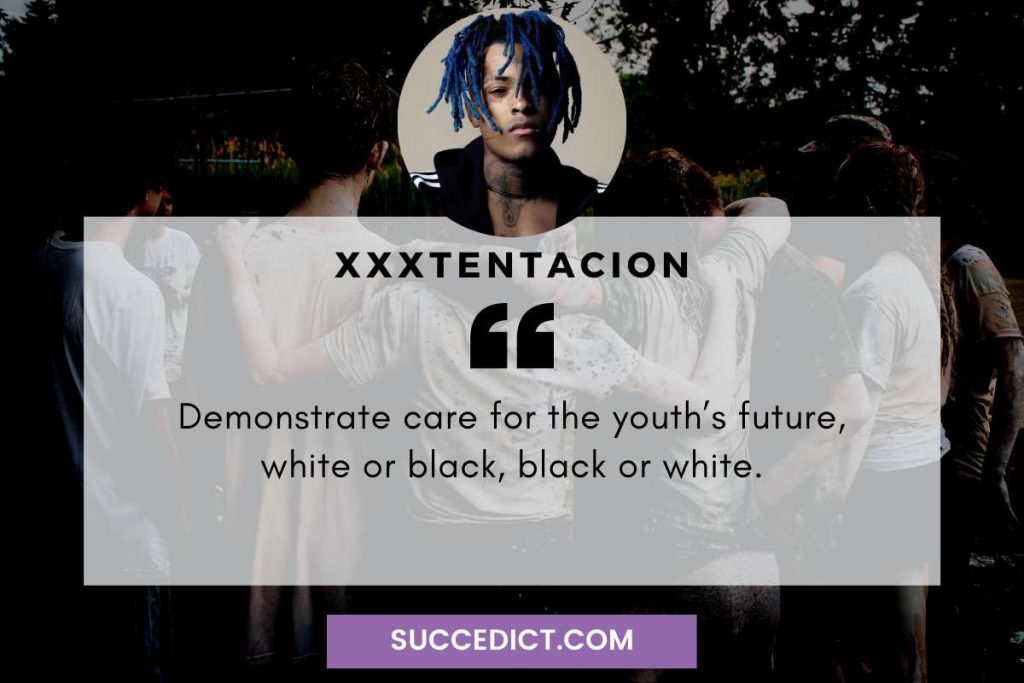 10. "Loneliness is the best supporter." – XXXTENTACION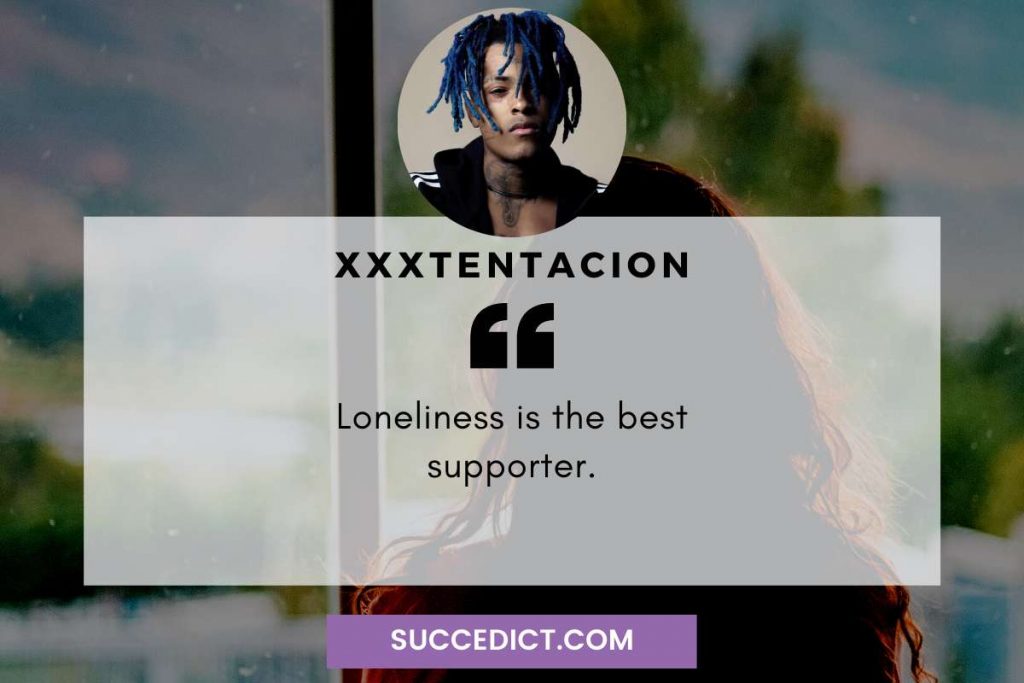 Inspirational XXXTENTACION Quotes
11. "Follow your dreams, and know that even though you have lost, you have guardian angels watching over you, day in and day out." – XXXTENTACION
12. "Your self respect is what matters. You cannot have a good life or have other people respect you for that matter if you don't respect yourself." – XXXTENTACION
13. "You have to remember that not everyone was raised like you. Not everyone has a pure heart or good intentions like you. And not everyone has your best interest and wants to see you succeed.'Just Carry On." – XXXTENTACION
14. "Do not let your depression make you. Do not let your body define your soul; let your soul define your body. Your mind is limitless. You are worth more than you can believe. All you have to do is dream and all you have to do is want to fulfill that dream and have the strength." – XXXTENTACION
15. "If two people are meant to be together, eventually they'll find there way back to each other." – XXXTENTACION
16. "Judge people not by the color of their skin, but by the content of their character." – XXXTENTACION
17. "I don't stress myself over unimportant things." – XXXTENTACION
18. "I do not value your money. I value your acceptance and loyalty." – XXXTENTACION
19. "Don't cry, don't cry, don't cry." – XXXTENTACION
20. "The right vibe from the right person, will always bring out the best in you." – XXXTENTACION
XXXTENTACION Quotes About Life
21. "We're all fighting battles no one knows about." – XXXTENTACION
22. "Life is a matter of perception. Everything is a riddle. You can simplify if you diversify your thoughts." – XXXTENTACION
23. "I know you got your problems, but brother, they got theirs This is not a game, quit violence and grow a pair." – XXXTENTACION
24. "The enemy does not want you to be happy, be happy, always." – XXXTENTACION
25. "Being alone really makes you realize all you got is yourself." – XXXTENTACION
26. "I advise you to not hide your feelings, don't pretend to be okay when you're not okay, don't pretend to be happy when you're sad, it'll only lead to your misery." – XXXTENTACION
27. "Life is way to difficult to stress over people who do not care about me or benefit me." – XXXTENTACION
28. "I'll never forget who helped me in difficult times, who put me in difficult time, and who left me in difficult times." – XXXTENTACION
29. "Time is valuable.. don't waste it." – XXXTENTACION
30. "Whether you realize it or not, everyday you evolve and create a thought." – XXXTENTACION
XXXTENTACION Quotes About Love
31. "Why am I so in love? Why am I so in love? Why am I so in love? I don't know why." – XXXTENTACION
32. "I love when you're around But I hate when you leave." – XXXTENTACION
33. "Make sure you are being healthy in mind, being caring, compromising for the ones you love, being loyal to the ones you love. If you love someone you're supposed to be dedicated to them, right." – XXXTENTACION
34. "Best months of my life spent with you, all lost in just one day." – XXXTENTACION
35. "When you have that genuine love for someone and they are your source of happiness. They become your drug." – XXXTENTACION
36. "I don't miss you anymore. I just miss the happy memories I had with you." – XXXTENTACION
37. "Even after all you did to me, after all the pain, the lies, the cheating, the embarrassment. I would never let anything happen to you." – XXXTENTACION
38. "I gave her everything. She took my heart and left me lonely. I've been broken, heart's contentious. I won't fix. I'd rather weep." – XXXTENTACION
39. "Only time I feel pain, when I'm feelin' love." – XXXTENTACION
40. "You ain't even showing me the love you say you got for me." – XXXTENTACION
Sad XXXTENTACION Quotes
41. "The saddest thing about betrayal is that it never comes from enemies, it comes from those you trust the most." – XXXTENTACION
42. "I love when you're around But I hate when you leave." – XXXTENTACION
43. "Please stop making me think you care if you don't." – XXXTENTACION
44. "Some kill, some steal, some break your heart." – XXXTENTACION
45. "You can be around a million people and still be alone. I know what that feels like." – XXXTENTACION
46. "People always leave. Don't get too attached." – XXXTENTACION
47. "I'm sadder than most of you with the money and the freedom." – XXXTENTACION
48. "Let them see me in pain again." – XXXTENTACION
49. "And every single year I'm drowning in my tears, I'm drowning in my tears again." – XXXTENTACION
50. "There is no end to the pain, you must be numb." – XXXTENTACION
Famous XXXTENTACION Quotes
51. "I don't like to speak about my age because people try to use my age to determine my knowledge." – XXXTENTACION
52. "I don't wanna pretend we're something, we're nothing." – XXXTENTACION
53. "I could never say I understand how you are all feeling, nor can I find the right words to say to you, but I do want you all to know, you are not alone." – XXXTENTACION
54. "Please don't throw your love away." – XXXTENTACION
55. "I'm always where the sun don't shine." – XXXTENTACION
56. "What is money really worth if it ain't love?" – XXXTENTACION
57. "It is all a process, the longer you wait the longer it will take." – XXXTENTACION
58. "Memories surface through the grapevine." – XXXTENTACION
59. "Carry on, like flights, I just carry on With this pain inside of my chest Got no choice but to carry on." – XXXTENTACION
60. "So outside of my misery, I think I'll find A way of envisioning a better life." – XXXTENTACION
XXXTENTACION Song Quotes
61. "I'm lost then I'm found/But it's torture bein' in love/I love when you're around/But I f**%*n' hate when you leave" – XXXTENTACION
62. "Everything will come to you, what you deserve will come to you" – XXXTENTACION
63. "Don't cry, don't cry, it won't end/Pain will always be my friend" – XXXTENTACION
64. "Oh, you can't run away/From everything you made/You try to erase/Memories will fade" – XXXTENTACION
65. "Offense or defense, passive or violentI'll cut my wrists 'til my heartbeat is silent" – XXXTENTACION
66. "Rain keeps falling, tears keep fallingRain keeps falling, tears keep fallingDarling, your love is like walking a bed of nailsAnd I just can't keep on fighting" – XXXTENTACION
67. "I'm in pain, wanna put ten shots in my brainI've been trippin' 'bout some things, can't changeSuicidal, same time I'm tame" – XXXTENTACION
68. "Grow your wings, fly away, fly away, fly away/You don't wanna stay, wanna stay, wanna stay" – XXXTENTACION
69. "Made a list of my regrets/And you were the first, love/Oh it hurts, I can't forget" – XXXTENTACION
70. "Drowin' in all of my regrets/All just the same in the end/Over and over again/All that we do is pretend" – XXXTENTACION
71. "Oh no, I swear to God, I be in my mind. Swear I wouldn't die, yeah, we ain't gonna said I wouldn't die, yuh." – XXXTENTACION
Also Check Out
Share This: