Do you want to discover some of the most iconic quotes of this character (joker) with a sinister smile? Here we have curated 51+ joker quotes and sayings for inspiration.
The Joker is one of the most iconic supervillains of history, both from the comics and from the movies. The Joker was created by Bill Finger, Bob Kane, and Jerry Robinson, and first appeared in the debut issue of the comic book Batman on April 25, 1940.
If you want to know a little more about the character, explore our collection of best joker quotes.
Let's put a smile on that face!

– Joker
Joker Quotes
1. "I believe whatever doesn't kill you simply makes you… stronger." – The Joker (Heath Ledger)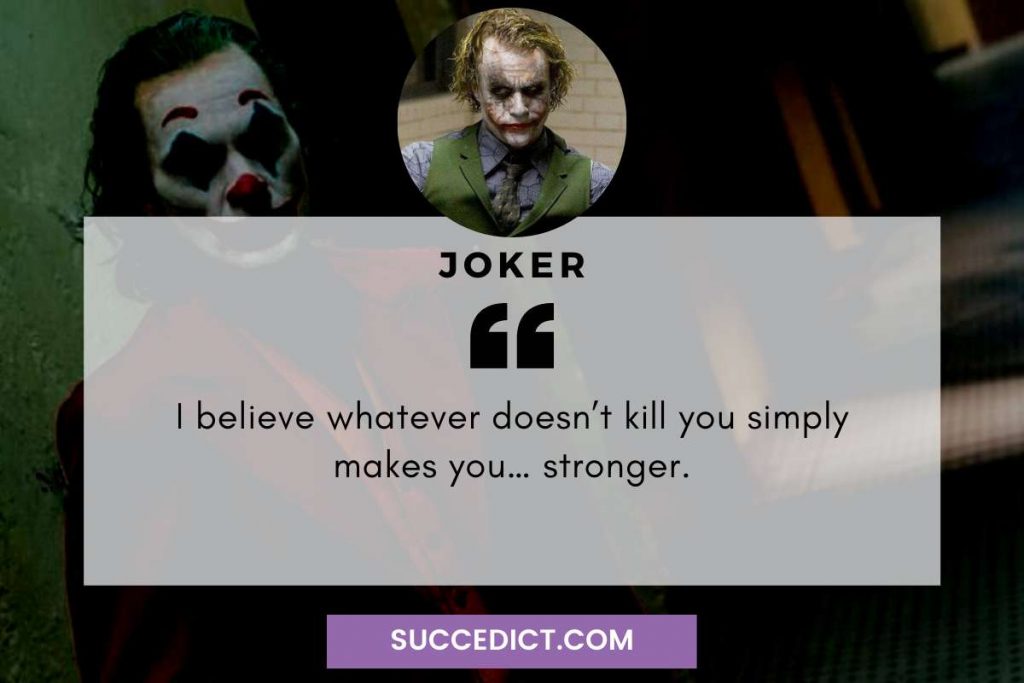 2. "They Laugh At me Because I'm Different. I laugh At Then Because They're all the same." – The Joker (Heath Ledger)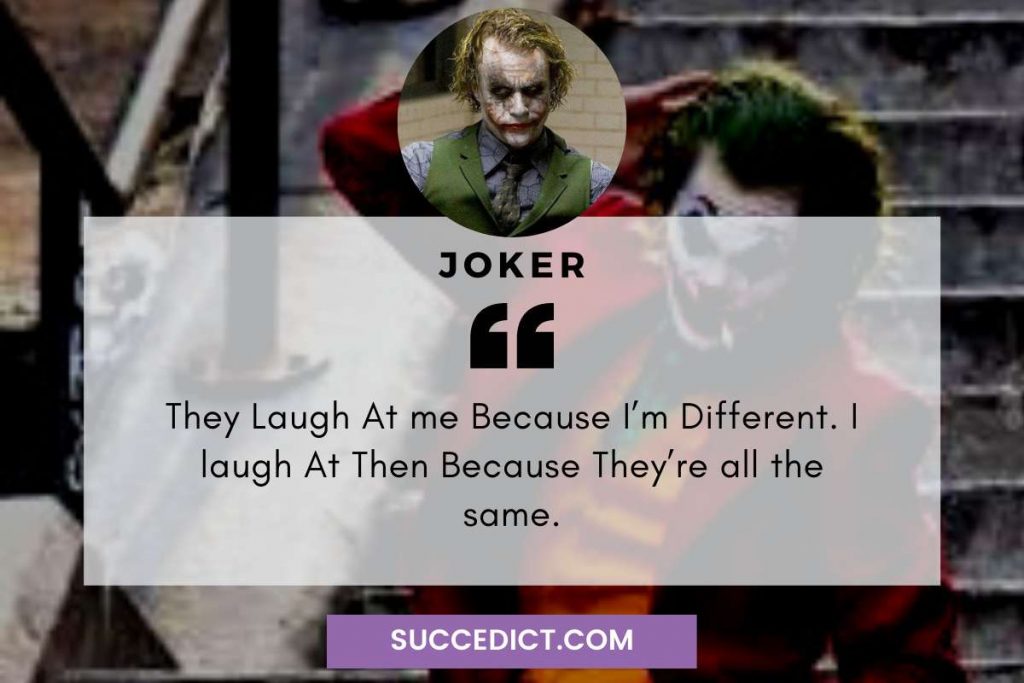 3. "If you're good at something, never do it for free." – The Joker (Heath Ledger)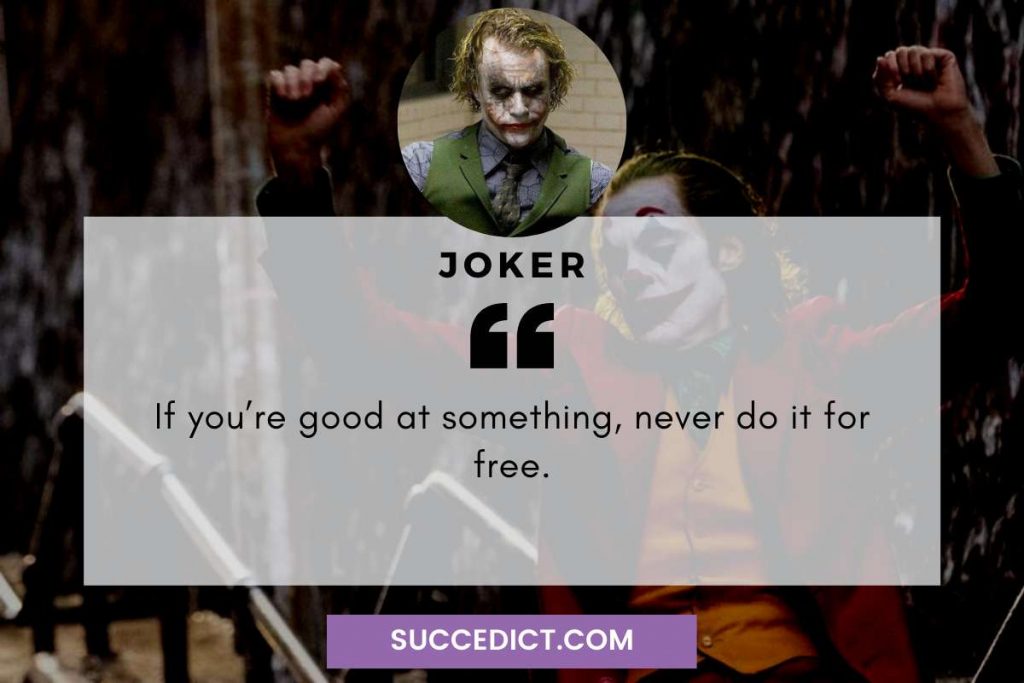 4. "I am not someone who is loved. I'm an idea. A state of mind." – The Joker (Heath Ledger)
5. "I'm not political. I'm just trying to make people laugh." – The Joker (Heath Ledger)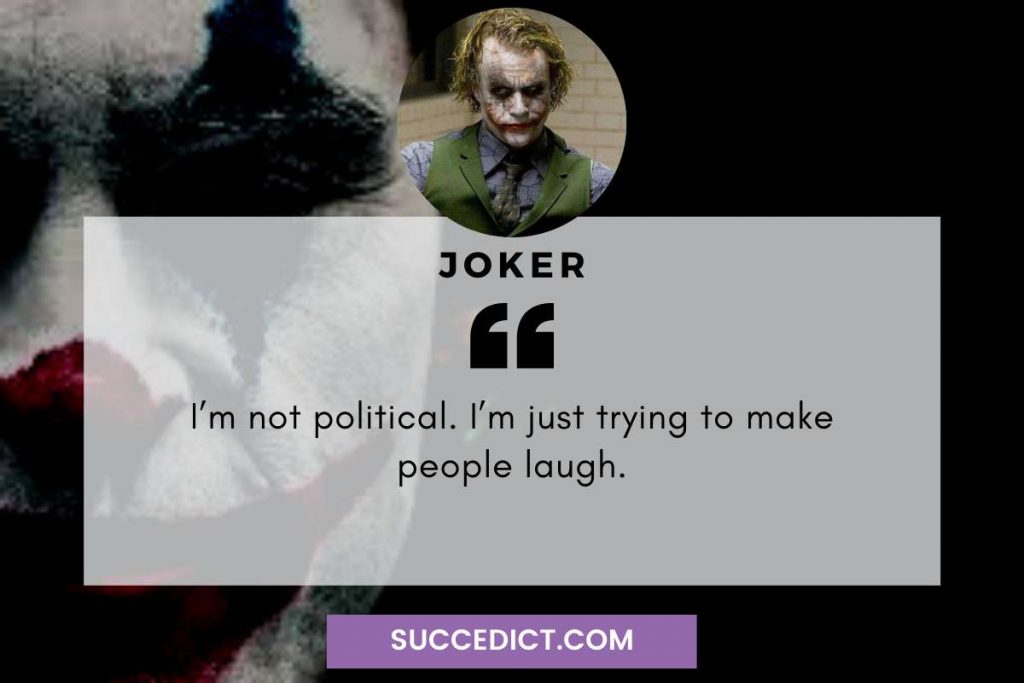 6. "Some people want to see you fail. Disappoint them!" – The Joker (Heath Ledger)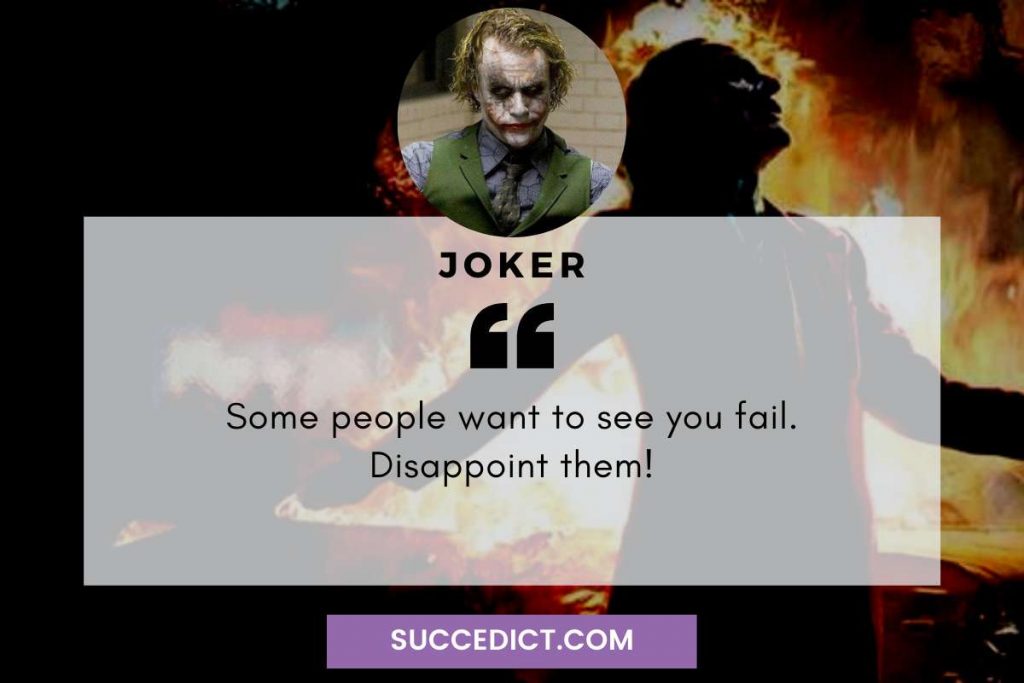 7. "Nobody panics when things go according to plan, even if the plan is horrifying!" – The Joker (Heath Ledger)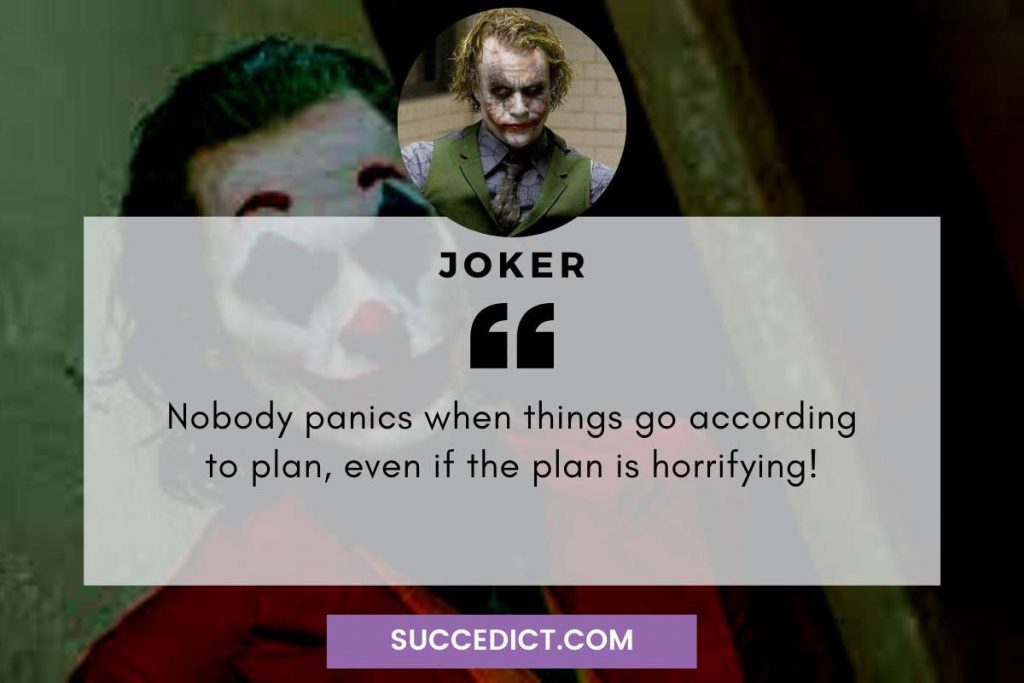 8. "The strongest hearts have the most scars!" – The Joker (Heath Ledger)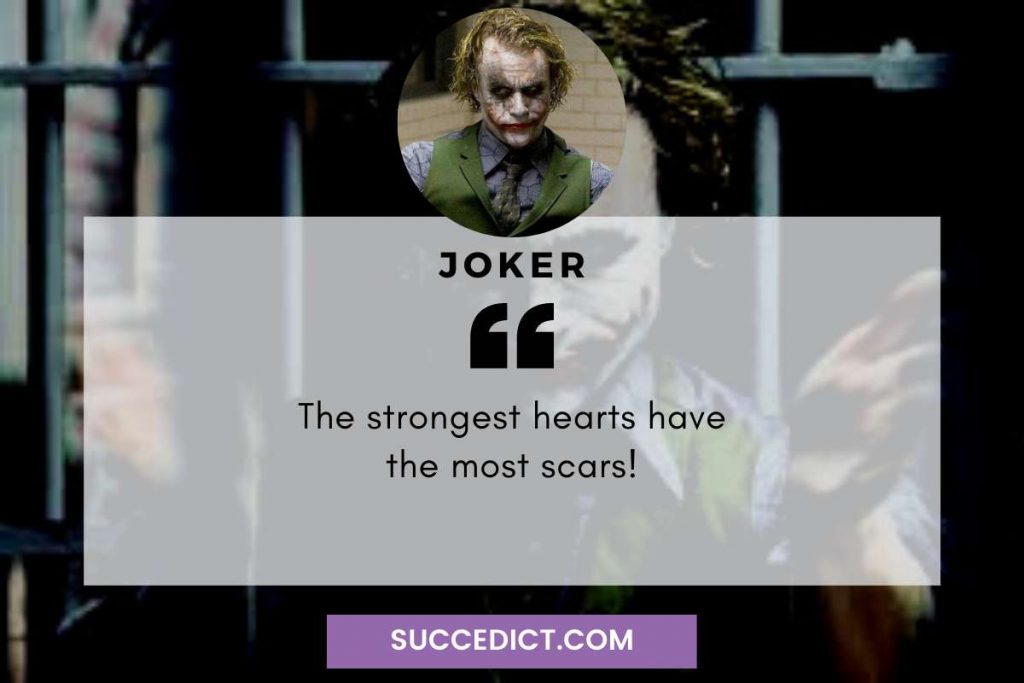 9. "The only sensible way to live in this world is without rules." – The Joker (Heath Ledger)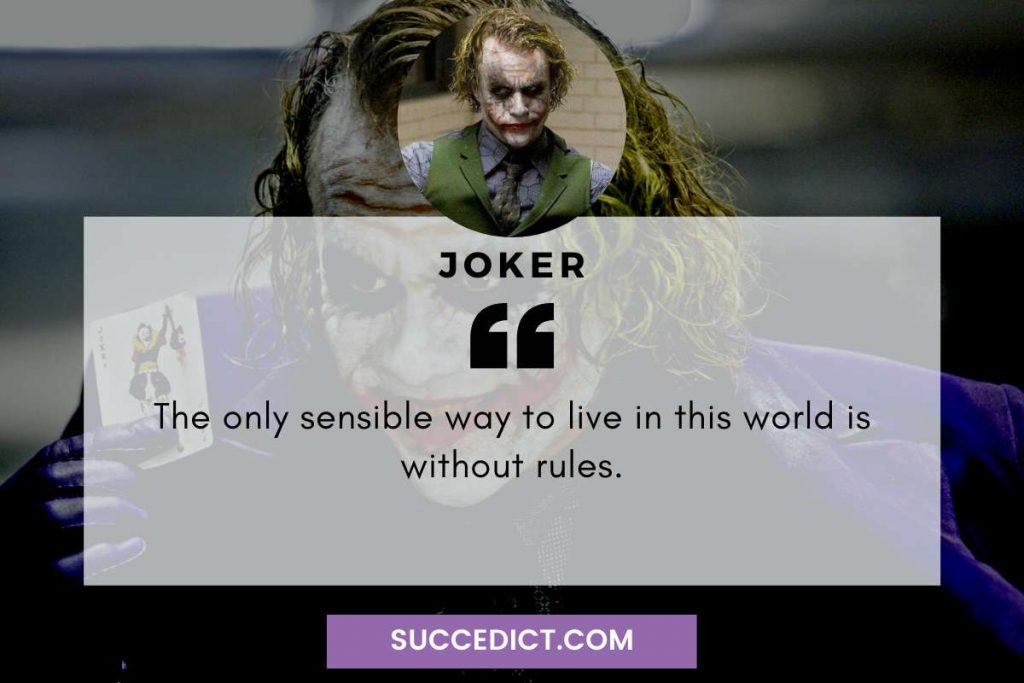 10. "Madness, as you know. Is like Gravity. All it takes is a little push." – The Joker (Heath Ledger)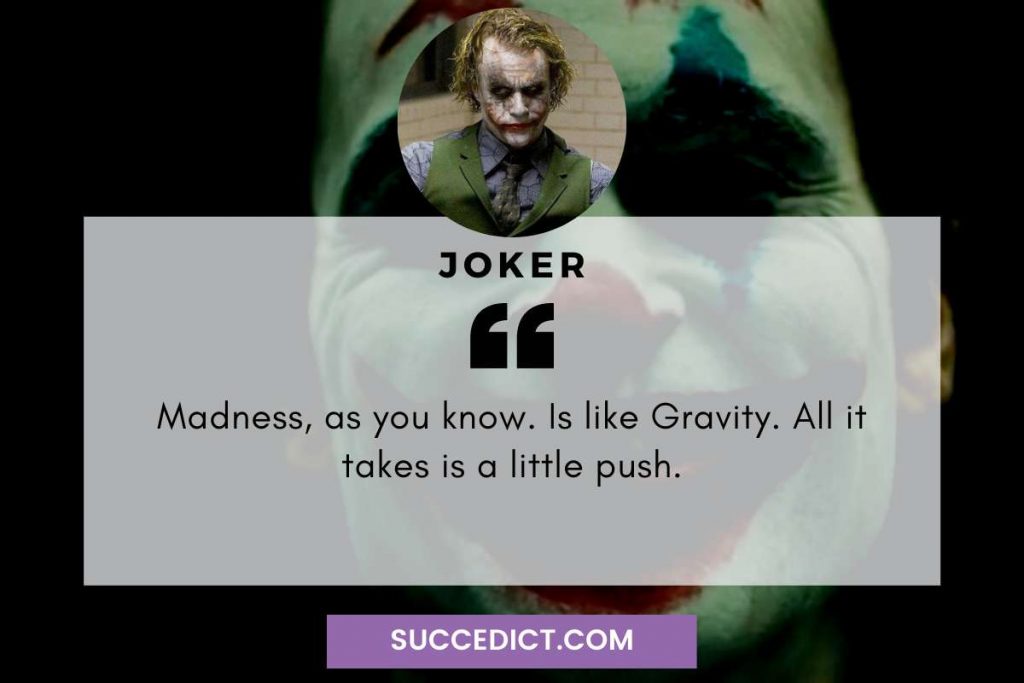 Top Quotes By Joker
11. "When They Treat You Like A Joke, Leave Them Like Its Funny." – The Joker (Heath Ledger)
12. "A man with nothing to fear is a man with nothing to love." – The Joker (Heath Ledger)
13. "There is no Yoda-there's no one who points you in the right direction. You've got to figure that out by yourself." – The Joker (Heath Ledger)
14. "If you make decisions based upon people's reactions or judgments then you make really boring choices." – The Joker (Heath Ledger)
15. "This city deserves a better class of criminal. And I'm gonna give it to them!" – The Joker (Heath Ledger)
16. "If you are just safe about the choices you make, you don't grow." – The Joker (Heath Ledger)
17. "Don't let anyone ever make you feel you don't deserve what you want." – The Joker (Heath Ledger)
18. "Sometimes you have to play the role of a fool to fool the fool who thinks they are fooling you." – The Joker (Heath Ledger)
19. "Give a man a mask and he will become his true self." – The Joker (Heath Ledger)
20. "Smile, because it confuses people. Smile, because it's easier than explaining what is killing you inside." – The Joker (Heath Ledger)
21. "No matter the situation, always wear a smile." – The Joker (Heath Ledger)
22. "To me love is about being able to see light inside of a person who sees nothing but darkness." – The Joker (Heath Ledger)
23. "The worst part of having a mental illness is people expect you to behave as if you don't." – The Joker (Heath Ledger)
24. "A bit of advice…don't ever apologize to no one for the way you look." – The Joker (Heath Ledger)
25. "Hating people takes so much energy, I just pretend they are dead." – The Joker (Heath Ledger)
26. "I'm Good at multitasking, I can listen, ignore and forget at the same time." – The Joker (Heath Ledger)
27. "Everyone has problems. Some are just better at hiding them." – The Joker (Heath Ledger)
28. "Everybody just yells and screams at each other. Nobody's civil anymore. Nobody thinks what it's like to be the other guy." – The Joker (Heath Ledger)
29. "I've got nothing left to lose nothing can hurt me anymore my life is nothing but a comedy." – The Joker (Heath Ledger)
30. "I'll tell you what you get you get what you f**king deserve!" – The Joker (Heath Ledger)
Short Joker Quotes
31. "Loss is what teaches us the value of things." – The Joker (Heath Ledger)
32. "Don't test the monster in me!" – The Joker (Heath Ledger)
33. "All it takes is just a beautiful fake smile to hide a broken heart." – The Joker (Heath Ledger)
34. "The people I trusted, taught me a lesson of not trusting anyone." – The Joker (Heath Ledger)
35. "Loyalty isn't difficult, People are immature." – The Joker (Heath Ledger)
36. "A fake smile can fool a crowd of people. But it will never heal the pain." – The Joker (Heath Ledger)
37. "Not everybody smiles because of happiness. Some smile to hide their tears." – The Joker (Heath Ledger)
38. "You can wipe someone's tears, but not their pain." – The Joker (Heath Ledger)
39. "The world is full of pretty faces with shi**y personalities." – The Joker (Heath Ledger)
40. "It's a funny world we live in. Speaking of which, do you know how I got these scars?" – The Joker (Heath Ledger)
Best Quotes By Joker
41. "I'm different, f*ck your opinion." – The Joker (Heath Ledger)
42. "Desire becomes surrender. Surrender becomes power." – The Joker (Heath Ledger)
43. "I hope my death makes more sense cents than my life." – The Joker (Heath Ledger)
44. "There are two kinds of people in this world, and I don't like them." – The Joker (Heath Ledger)
45. "When they call you crazy, Remember that genius ideas don't come from average minds." – The Joker (Heath Ledger)
46. "You'll never understand the damage you did to someone until the same thing is done to you." – The Joker (Heath Ledger)
47. "The stuff you heard about me was a lie, I am more worse than you think." – The Joker (Heath Ledger)
48. "Someday someone will break you so badly  that you'll become unbreakable." – The Joker (Heath Ledger)
49. "Just because someone doesn't understand your emotions, doesn't mean they are not valid." – The Joker (Heath Ledger)
50. "You have nothing nothing to threaten me with nothing to do with all your strength." – The Joker (Heath Ledger)
51. "I know the voices in my head aren't real but sometimes their ideas are absolutely awesome." – The Joker (Heath Ledger)
Also Check Out:
Share This: