Sometimes the best things come in small packages. Fortune cookie sayings are tiny bits of wisdom for your day.
Fortune cookies are Chinese food snacks that come in a thin paper wrapper. They contain fortunes written inside them. The fortune is usually a proverb or saying that has some kind of meaning. Some people believe that these fortunes tell their future.
A good fortune cookie is not just a piece of paper but an experience—filled with inspiring messages and unique insights.
Find your fortune in these fortune cookie sayings or use this fortune cookie generator.
Best Fortune Cookies Sayings
Fortune cookies are the perfect way to end a hectic workday. These little gems will bring you good fortune and great cheer.
1. Nobody needs you as much as you need yourself. – Nitin Namdeo
2. There is no great future without great hope. – Nitin Namdeo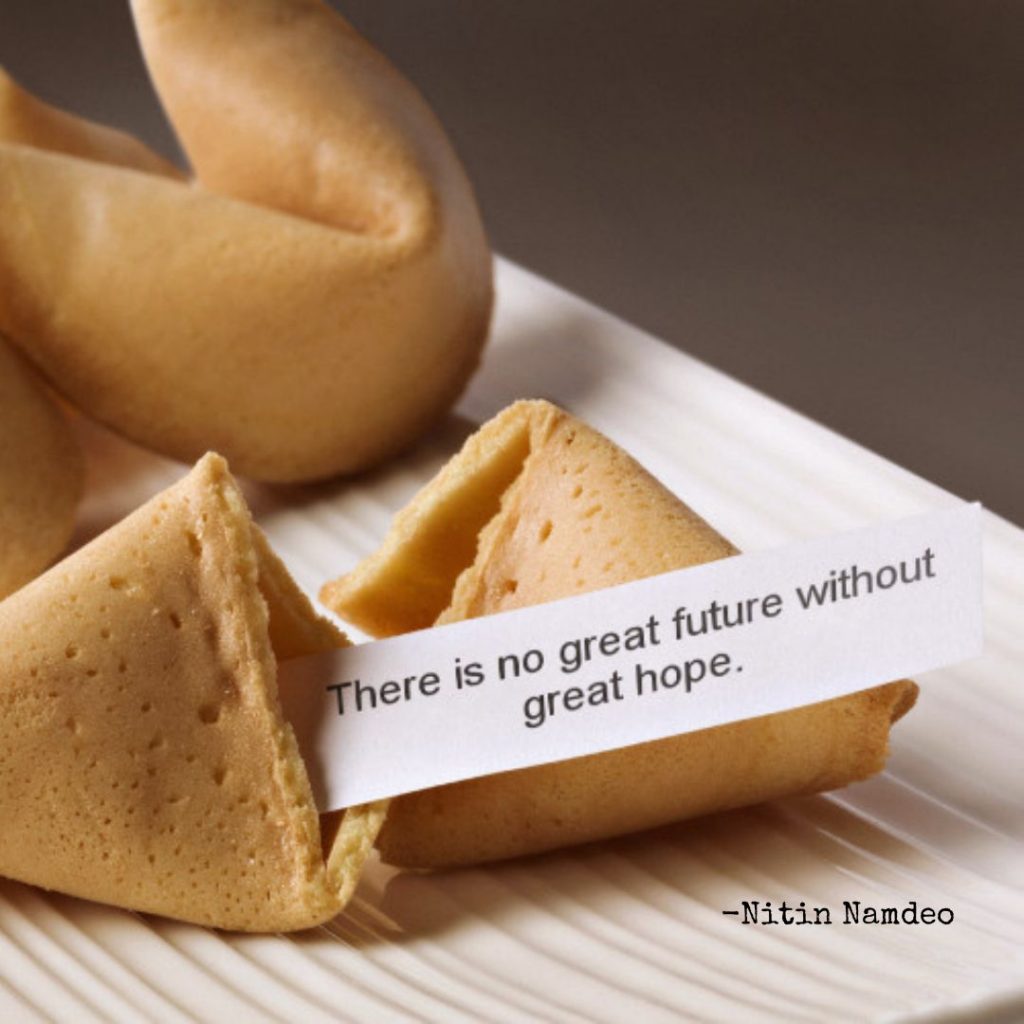 3. Do not lose your smile because of temporary pain. – Nitin Namdeo
4. Listen to your conscience and not the crowd. – Nitin Namdeo
5. In a world of chaos, you are your only roadmap. – Nitin Namdeo
6. You are born for a reason, the reason that no one but your heart knows. – Nitin Namdeo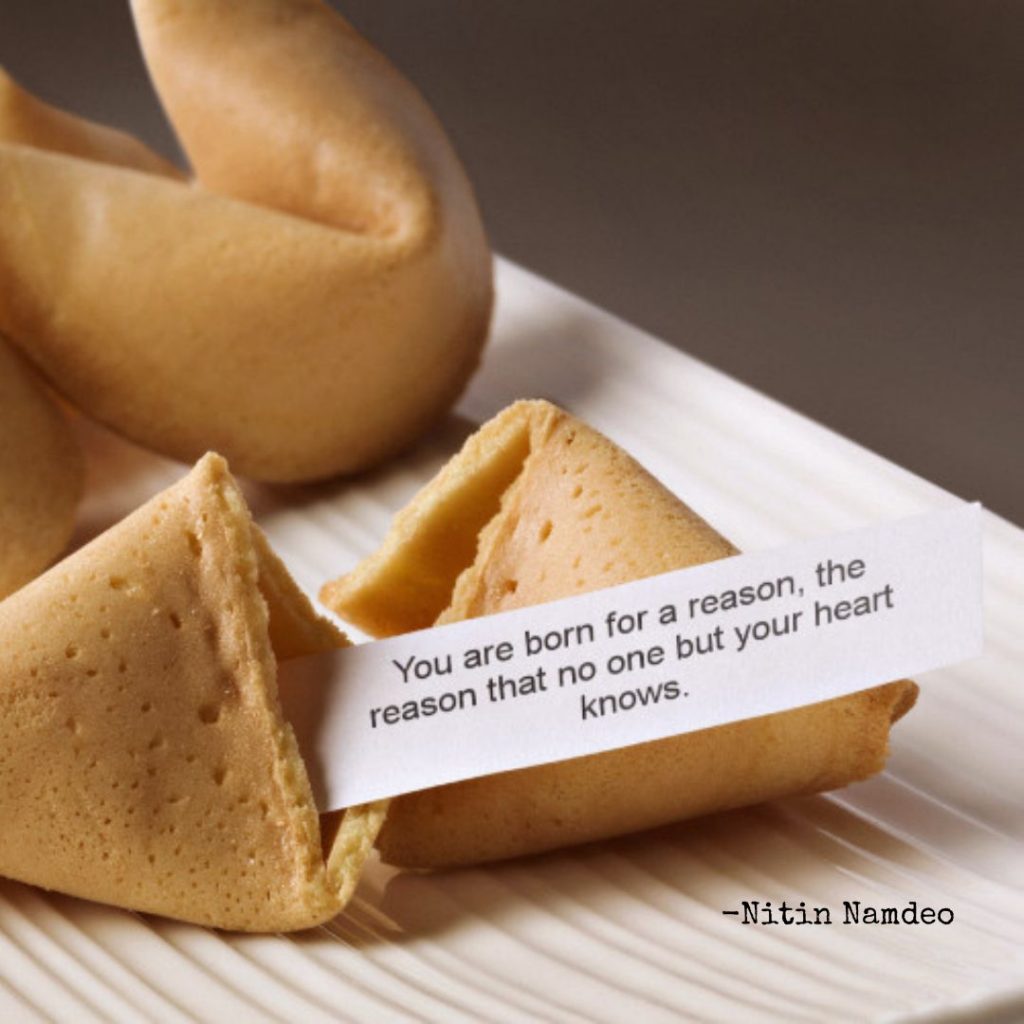 7. The world will never be satisfied with you, so it is better that you satisfy your heart. – Nitin Namdeo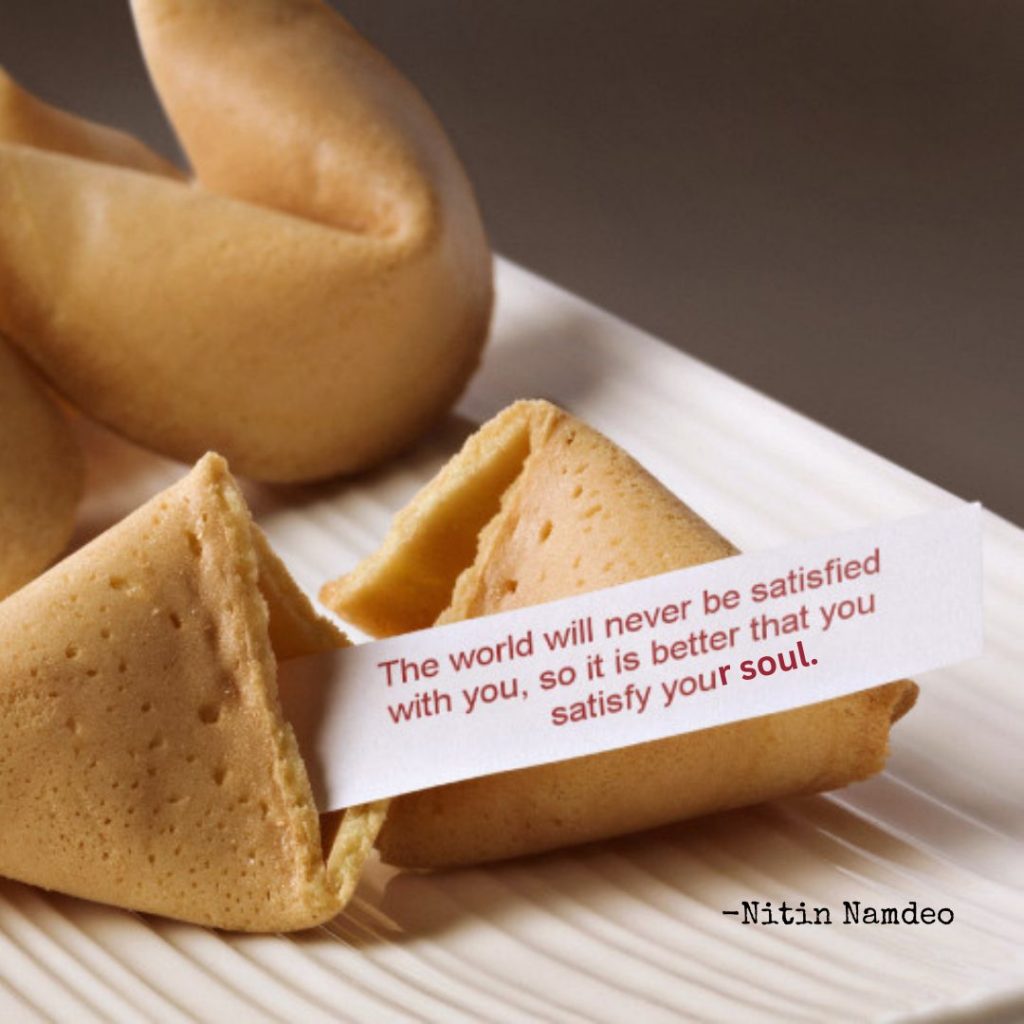 8. This is the journey of your life. Don't try to explain it to others, because only you can see it. – Nitin Namdeo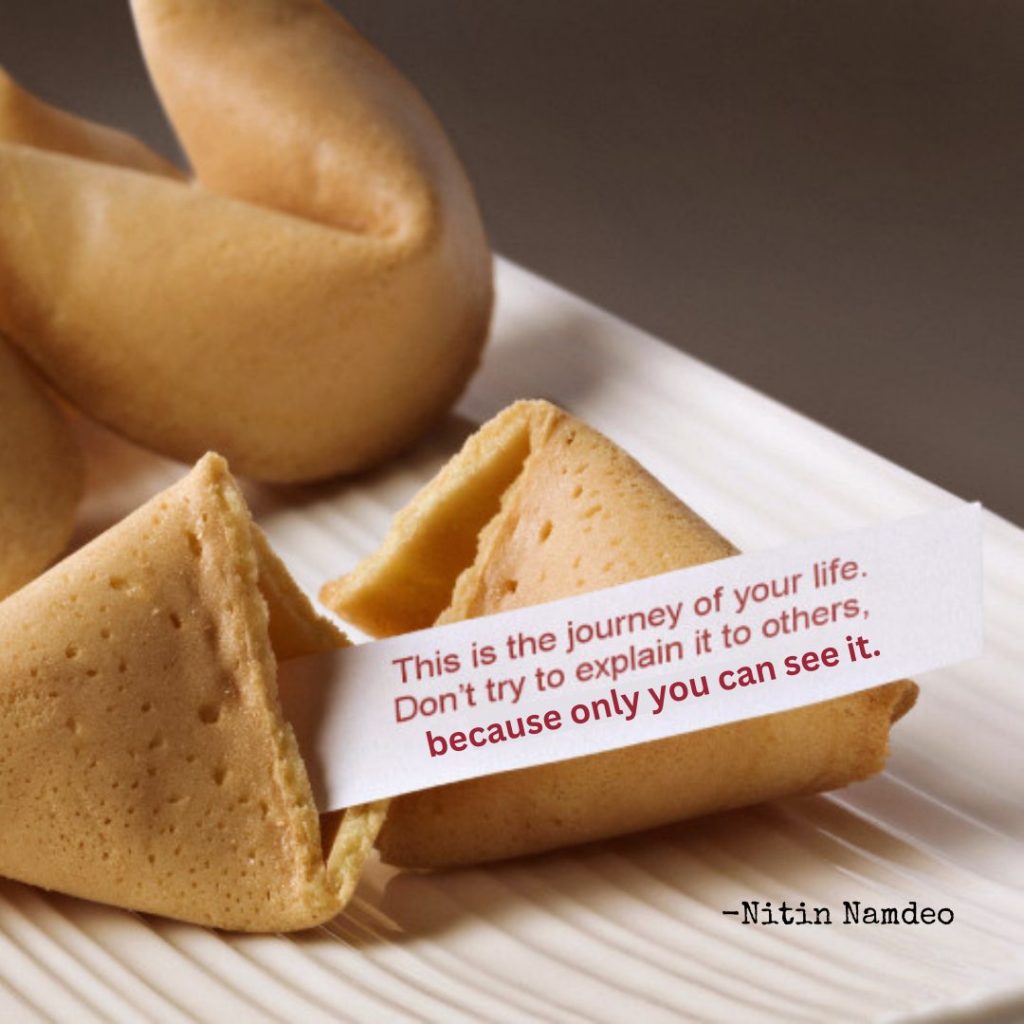 9. Don't just plan, build the courage to take the journey of your dream life. – Nitin Namdeo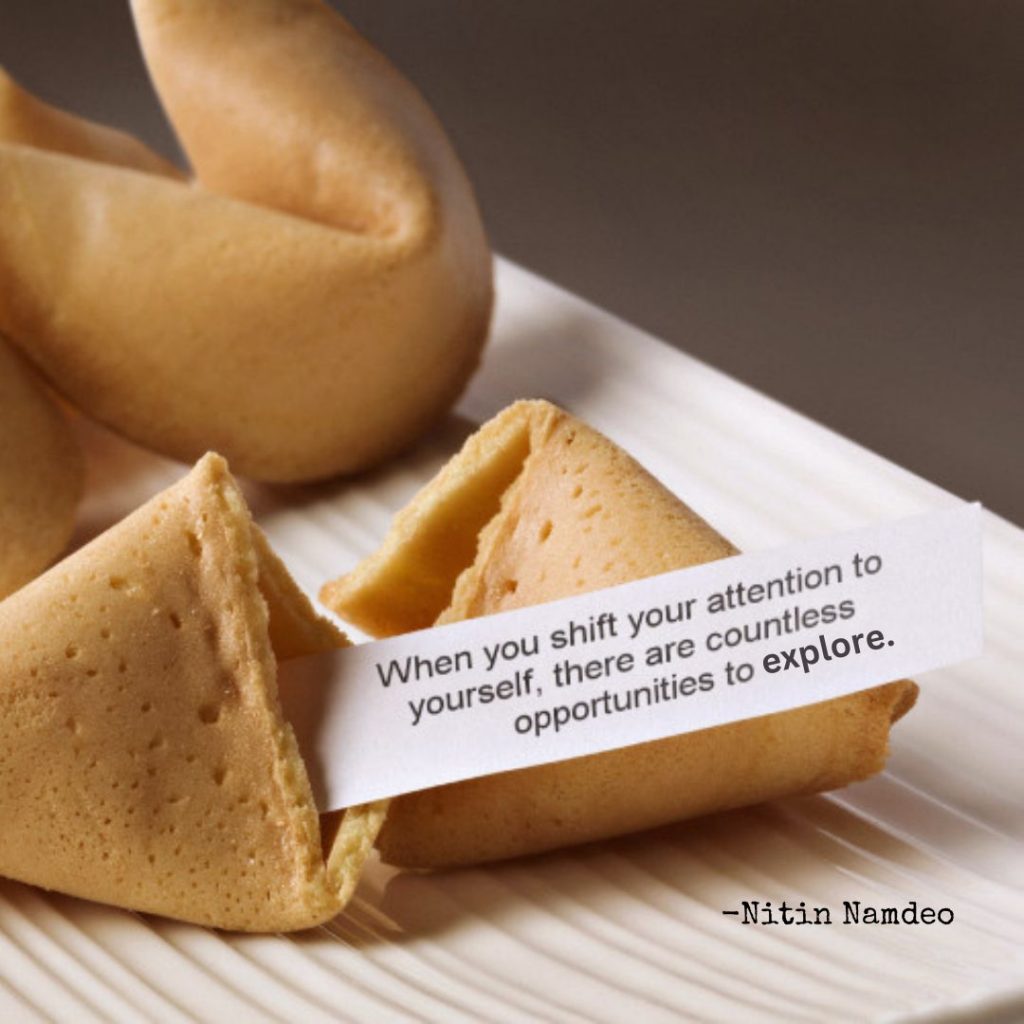 10. When you shift your attention to yourself, there are countless opportunities to explore. – Nitin Namdeo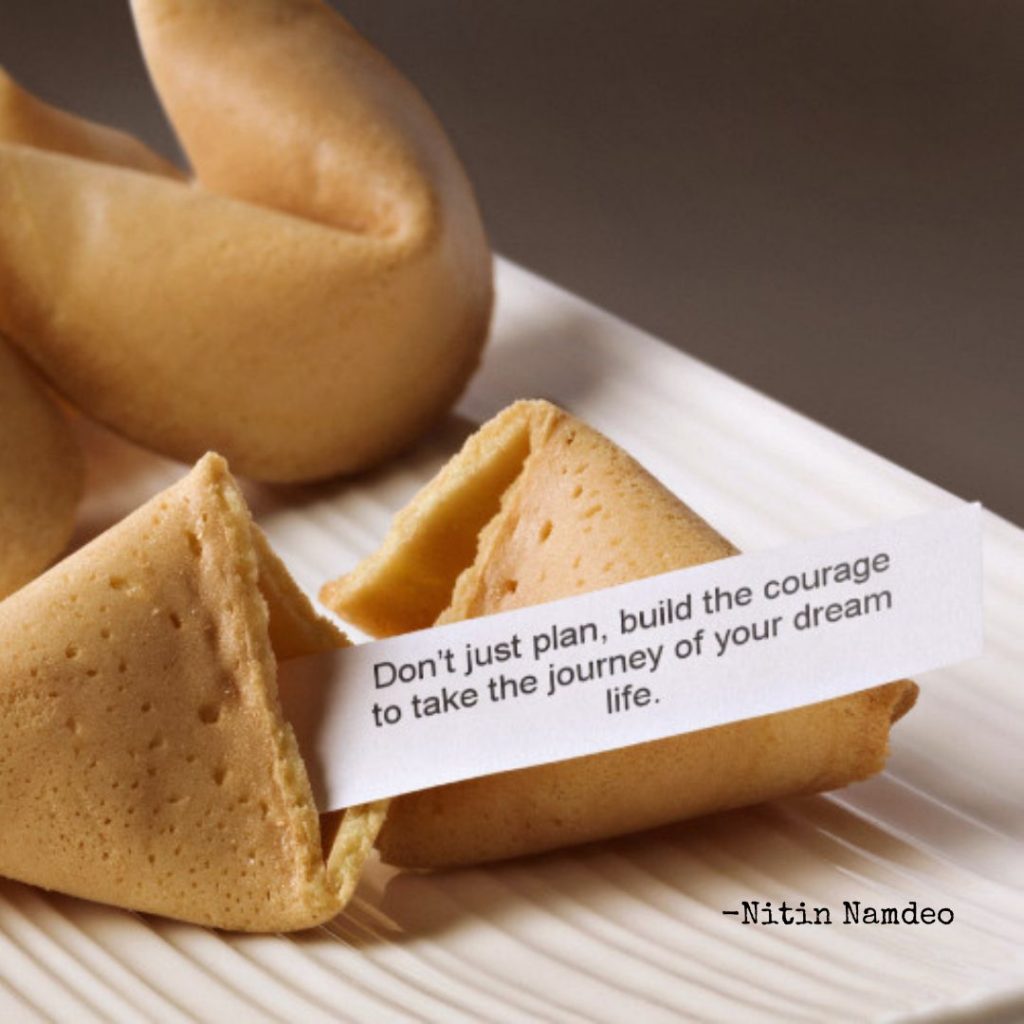 Positive Fortune Cookie Sayings
Positive fortune cookie sayings are great for reading on the go, whether you're at a restaurant or waiting at the airport.
11. Your intuition is your greatest ally, and your heart is the most powerful tool in your arsenal. – Nitin Namdeo
12. Take one step at a time, have faith in God and move forward. – Nitin Namdeo
13. Positive thoughts are healthy food of the mind. – Nitin Namdeo
14. You are your only limit.
15. Be you, the world will adjust.
16. You didn't go through all that for nothing.
17. You are always one decision away from totally different life.
18. Hey little fighter, soon things will be brighter.
19. Never trust your fears, they don't know your strength.
20. There is always hope in the human spirit. And there's even more to come.
Meaningful Fortune Cookie Sayings
Fortune cookie sayings are tiny bits of wisdom for your day. Find your fortune in these meaningful fortune cookie sayings.
21. You can't change the past, but you can move forward and make your future a bright one. – Nitin Namdeo
22. Life is a game of chance and you only get one turn. Make the most of your opportunity. – Nitin Namdeo
23. Enjoying life to the fullest is all about turning down the volume and turning up your vibration. – Nitin Namdeo
24. Excessive attachment to anything in life makes you mentally enslaved. – Nitin Namdeo
25. Do not give up… strength and skills can be developed. – Nitin Namdeo
26. You imagination has the power to change your reality. – Nitin Namdeo
27. You live life better when you are free from the fear of losing. – Nitin Namdeo
28. The more curious you are, the more secrets will be revealed. – Nitin Namdeo
29. If you believe in yourself and your dreams, everything is possible. If you don't, then nothing is.
30. Money can't buy happiness. Neither can poverty.
Cute Fortune Cookie Sayings
I know you are cute that's why we have a collection of cute fortune cookie sayings to brighten up your day.
31. You have a good heart. You have to believe in other people, trust that they are good too. – Nitin Namdeo
32. You don't have to be a prophet to know the future. Just follow your instincts and you'll find whatever you're looking for. – Nitin Namdeo
33. You were born at the perfect time and in exactly the right place to be lucky. – Nitin Namdeo
34. Bloom with grace.
35. Be a shining star in the darkest of nights. – T.F.Fox
36. Don't wait for your wings, fight for them.
37. Expect nothing. Appreciate everything.
38. Dream without fear. Love without limit.
39. Rise above the storm and you will find the sunshine. – Mario Fernandez
40. Never regret anything that made you smile. – Mark Twain
Funniest Fortune Cookie Sayings
It's always good to have a little fortune cookie advice in your pocket. And if they are funny it's even better.
41. Sometimes, you want to give a cookie to someone. Sometimes you want to eat the cookie yourself. – Nitin Namdeo
42. Take a bite out of life and see what's on the other side. – Nitin Namdeo
43. You can't have what you want, if you don't know what you want.
44. When nothing goes right… go left.
45. Life is not a fairy tale. If you lose your shoe at midnight, you're drunk.
46. Cupcakes are muffins that believed in miracles.
47. You have to be odd to be number one. – Dr. Seuss
48. Life is too short for fake butter, cheese or people.
49. You can't be sad when you're holding a cupcake.
50. Life is short. Eat dessert first.
Inspirational Fortune Cookie Sayings
Fortune cookie sayings are a great way to brighten your day. These inspirational fortune cookie sayings can be quite powerful and thought-provoking.
51. The most important thing to remember is that you are loved and cherished. – Nitin Namdeo
52. How you see the world is how it is. – Nitin Namdeo
53. The only time you can make a mistake is when you think you've learned something. – Nitin Namdeo
54. Your destiny is waiting for you to make the right choices. – Nitin Namdeo
55. The best is yet to come.
56. The best way to predict your future is to create it. – Abraham Lincoln
57. Trust the process and always be ready.
58. Those who cannot remember the past are condemned to repeat it. – George Santayana
59. Good things come to those who wait.
60. The best way to have a great day is to start it off right.
Fortune Cookie Sayings About Life
There are many fortune cookie sayings about life. Some of them are positive, some negative, and some are even funny. Here are some of the most famous ones.
61. When it feels like you're at the top, trust that there is still more to come. – Nitin Namdeo
62. Good things don't just happen, they're worked for. – Nitin Namdeo
63. You are what you think about all day, every day. Take time to get to know yourself and live your best life. – Nitin Namdeo
64. Your life is the result of the choices you make. Make good ones. And more importantly, make them with purpose. – Nitin Namdeo
65. Sometimes the best things come in small packages.
66. Great things are not done by impulse, but by a series of small things brought together. – Vincent Van Gogh
67. What are you waiting for? It's time to begin your journey.
68. The best things in life aren't things. They're moments.
69. Change is inevitable, how you handle it is up to you.
70. Make each day your masterpiece and build a positive life that matters.
Fortune Cookie Sayings About Love
Fortune cookies are a great way to bring a smile to someone's face. Here are some of the most beautiful fortune cookie sayings about love.
71. Love is a promise, not a suggestion. – Nitin Namdeo
72. Sometimes home can be another person.
73. Love doesn't need to be perfect, it just need to be true.
74. Stop chasing the wrong one. The right one won't run.
75. You deserve someone who is terrified to lose you. – R.H. Sin
76. Protect what you love.
77. Always be in love with a soul, not a face.
78. True love is not found. It's built.
79. There are no accidental meetings between souls.
80. Remember this: The right person will never get tired of you.
Fortune Cookie Sayings About Happiness
Some fortune cookie sayings and phrases to start your week off right. These fortune cookie sayings will make you happy and inspire you:
81. Be the boss of your own destiny and make yourself feel good today by choosing to be happy! – Nitin Namdeo
82. If you want to be happy for the rest of your life, then you should learn to appreciate what you have now. – Nitin Namdeo
83. Happiness is not something ready made. It comes from your own actions. – Dalai Lama
84. The key to happiness is being happy with who you are and enjoying the life you are living. – Robert Moment
85. Happiness is an attitude, not a destination.
86. Happiness is a choice. If you are wise, you will always choose it first. – Nitin Namdeo
87. You glow differently when you're actually happy.
88. You will be exactly as happy as you decide to be.
89. Stop looking for happiness, you are alive, you are in this moment, nothing can be happier than this. – Nitin Namdeo
90. Always look on the bright side of life. Your happy place will always be close by.
Valentine Fortune Cookie Sayings
Want to make someone feel special ? These valantine fortune cookie sayings will be great to share with them.
91. Besides chocolate you're my favourite.
92. I fell for you and I am still falling.
93. And suddenly all the love songs were about you.
94. I can't stop loving you so be with me always.
95. My heart is all yours and will forever be.
96. You make me happy in a way nobody else can.
97. My favourite place in the world is next to you.
98. The way you look at me takes me to an another world.
99. I asked god for happiness and he gave me you.
100. I want to be the only hand you ever need to hold.
Romantic Fortune Cookie Sayings
You never know where life will take you, or what adventures lie ahead, but the only thing you can know right now is that you're going to read romantic fortune cookie sayings ahead.
101. You are exactly precisely and perfectly what I waited for.
102. There will always be room for your hand in mine.
103. You are my most beautiful someone.
104. Your heart and my heart are very, very old friends. – Hafiz
105. Darling, you are all I ever wanted love to be.
106. Only you can make me smile at my lowest.
107. My heart made its choice and it chose you.
108. My love for you remain as infinite as the stars .
109. I think my soul is in love with yours.
110. The most beautiful part is, I wasn't even looking when I found you.
Fortune Cookie Quotes
We believe in the power of a good fortune cookie, and we're happy to share these great fortune cookie quotes with you.
111. Silence is the best speech you will ever give to fools. – Nitin Namdeo
112. Living your life without knowing your worth is a sin. – Nitin Namdeo
113. It is useless to explain to a person who is already holding a conclusion. – Nitin Namdeo
114. Speak only if it improves upon the silence. – Mahatma Gandhi
115. Let silence be the art you practice – Rumi
116. The only way not to think about money is to have a great deal of it. – Edith Wharton
117. The man who removes a mountain begins by carrying away small stones. – William Faulkner
118. You can't use up creativity. The more you use, the more you have. – Maya Angelou
119. If you surrender to the wind you can ride it. – Toni Morrison
120. You can't regret experience. – S.E. Hinton
121. Never confuse a single defeat with a final defeat. – F. Scott Fitzgerald
122. Anything that just costs money is cheap. – John Steinbeck
123. With enough courage, you can do without a reputation. – Margaret Mitchell
124. To die laughing must be the most glorious of all glorious deaths! – Edgar Allan Poe
125. Don't ever take a fence down until you know why it was put up. – Robert Frost
126. Find ecstasy in life; the mere sense of living is joy enough. – Emily Dickinson
127. Re-examine all you have been told. Dismiss what insults your soul. – Walt Whitman
128. Do not despair whatever happens for behind the clouds is always the rainbow. – L. Frank Baum
129. The man who seeks revenge digs two graves. – Ken Kesey
130. Always be on the lookout for the presence of wonder. – E.B. White
These were the messages of fortune cookies. Each message tells you a story and each story has a lesson to be learned. If you like these fortune cookie sayings, you can do this one thing now: show your love for someone by sharing this page with them.
Final Words:
We are all made of the same stuff, stars and dust. But to some people, the shape of their lives is determined by chance, by accident. To others, it is all a matter of choice.
What's your favorite fortune cookie saying? I can't wait to see what you say!
Also Read:
Share This: