These quotes about simplicity will inspire you to remove complications from your life and live a peaceful life.
No matter what we believe in, the truth is that life is simple, and happiness is in simplicity. I think complexity is just a sign that we have strayed from the right track, and we need to make some fundamental reforms in our way of thinking.
If you are not in simplicity, it is that you have lost yourself in some part of your life. I hope these quotes about simplicity will help you find the right way to live your life.
Simplicity is the ultimate sophistication.

– Leonardo da Vinci
Quotes About Simplicity
1. "Simplicity is a state of mind and not a lifestyle." – Nitin Namdeo
2. "Simplicity in your nature brings simplicity to your life." – Nitin Namdeo
3. "Simplicity is the purest form of anything." – Nitin Namdeo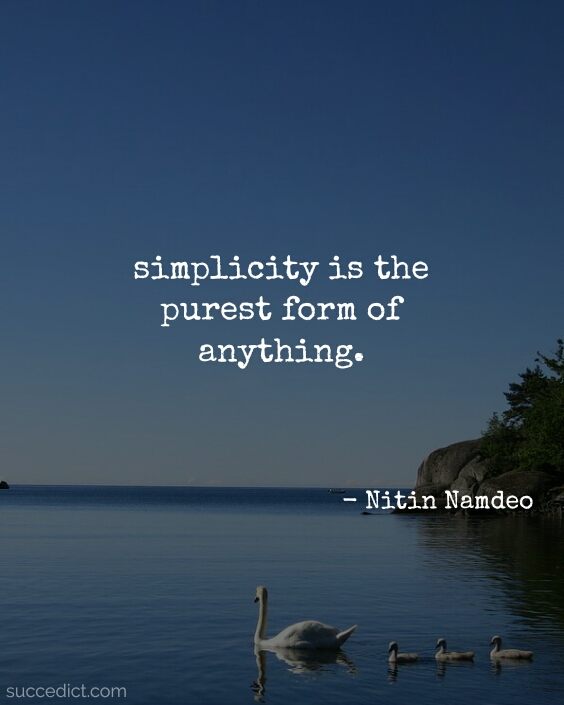 4. "Dissolving one's simplicity is the most complex task." – Nitin Namdeo
5. "Simplicity is the key to achieve 'extraordinary'." – Nitin Namdeo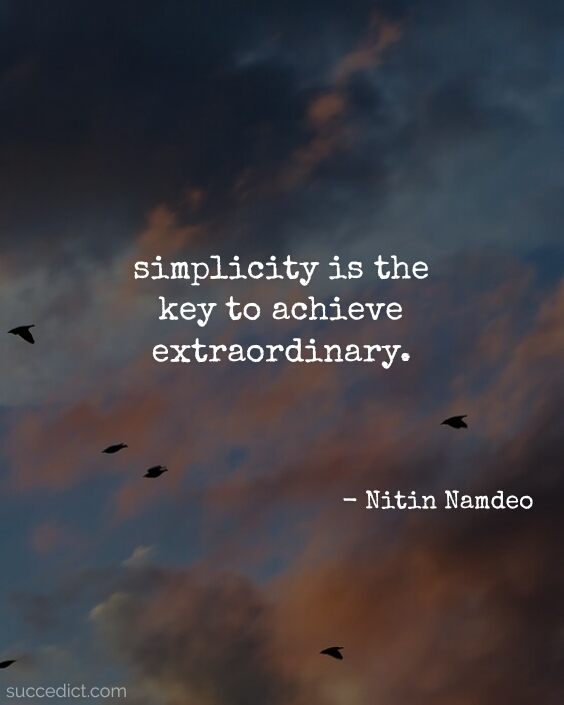 6. "Nature never gives up its simplicity; that is why it always looks attractive." – Nitin Namdeo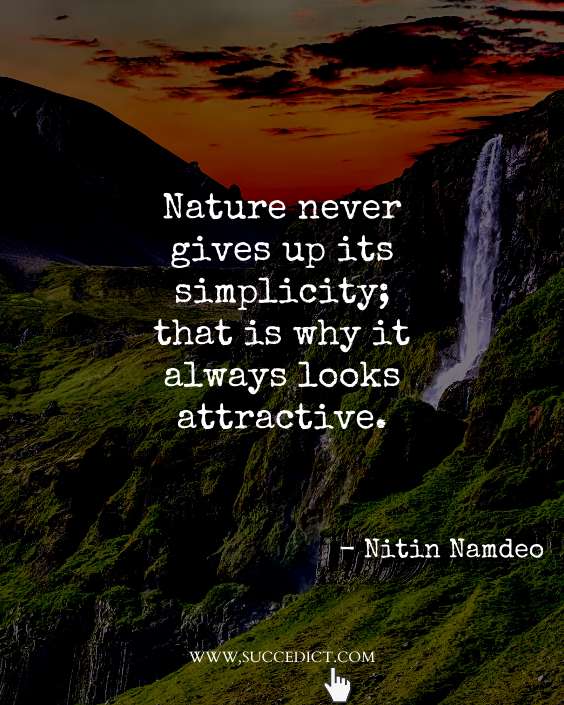 7. "Those who live life with deep understanding always prefer simplicity." – Nitin Namdeo
8. "The abandonment of simplicity leads to chaos." – Nitin Namdeo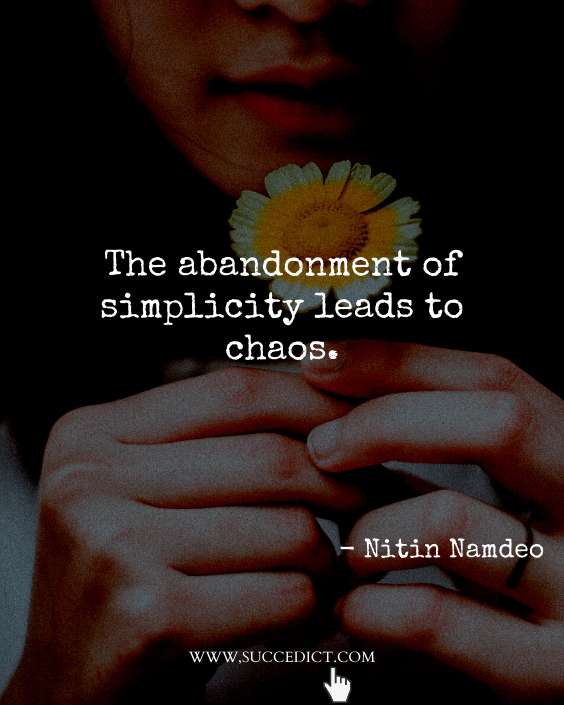 9. "Anything is most obvious when it is in its simplest form." – Nitin Namdeo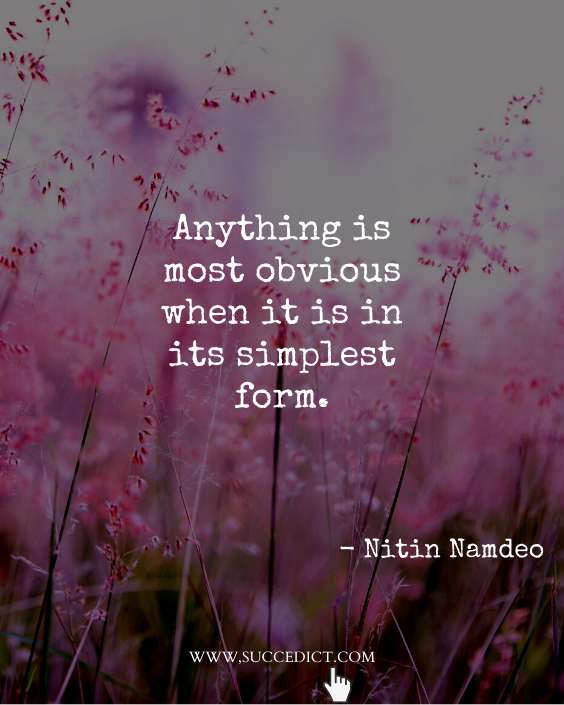 10. "Simplicity is the latest fashion of all time." – Nitin Namdeo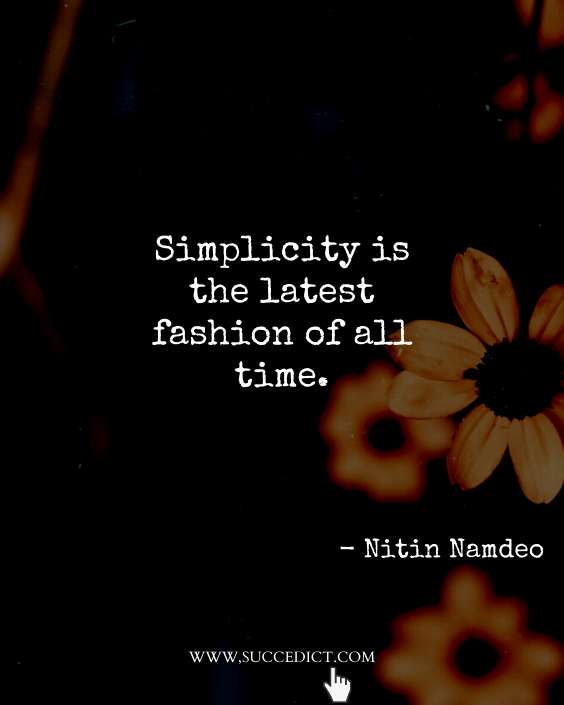 Famous Quotes About Simplicity
11. "There is no greatness where there is no simplicity, goodness, and truth." – Leo Tolstoy
12. "Life is really simple, but we insist on making it complicated." – Confucius
13. "Simplicity is the soul of efficiency." – Austin Freeman
14. "Simplicity means the achievement of maximum with minimum means." – Albert Einstein
15. "Simplicity is not about deprivation. Simplicity is about greater appreciation for the things that really matter." – Joshua Becker
16. "Making the simple complicated is commonplace; making the complicated simple, awesomely simple, that's creativity." – Charles Mingus
17. "Simplicity sets possession in proper perspective." – Richard J. Foster
18. "Simplicity is not a simple thing." – Charlie Chaplin
19. "I am convinced that there can be luxury in simplicity." – Jil Sander
20. "Don't mistake simplicity for lack of power, complexity is fools gold."
21. "Any intelligent fool can make things bigger, more complex, and more violent. It takes a touch of genius—and a lot of courage—to move in the opposite direction." – E. F. Schumacker
22. "It is simplicity that makes the uneducated more effective than the educated when addressing popular audiences." – Aristotle
23. "I have just three things to teach: simplicity, patience, compassion. These three are your greatest treasures." – Lao Tzu
24. "Truth is ever to be found in the simplicity, and not in the multiplicity and confusion of things." – Isaac Newton
25. "Complex things are easy to do. Simplicity's the real challenge." – Robert James Waller
26. "Complexity is your enemy. Any fool can make something complicated. It is hard to make something simple." – Richard Branson
27. "Nothing is more simple than greatness; indeed, to be simple is to be great." – Ralph Waldo Emerson
28. "The greatest step towards a life of simplicity is to learn to let go." – Steve Maraboli
29. "Everything is both simpler than we can imagine, and more complicated that we can conceive." – Goethe
30. "A little simplification would be the first step toward rational living, I think." – Eleanor Roosevelt
Inspirational Quotes About Simplicity
31. "The art of a creative mind is to make things simple; a perverted mind always makes things difficult." – Nitin Namdeo
32. "Being simple is the hardest thing that's why most people are complicated." – Nitin Namdeo
33. "Everything that is natural is simplistic yet beautiful." – Nitin Namdeo
34. "Don't hide your simplicity with show-offs; let it shine because it shines much brighter than show-offs." – Nitin Namdeo
35. "If you are looking for peace, then you will find simplicity first." – Nitin Namdeo
36. "The most beautiful thing in the world is the simplicity of character." – Nitin Namdeo
37. "Attachment to unnecessary things brings unnecessary burden and takes away simplicity from your life. Remove unnecessary and live with simplicity." – Nitin Namdeo
38. "Those with simplicity in their thought experience ultimate peace in their life." – Nitin Namdeo
39. "To live life the right way is to live with simplicity and a great sense of life." – Nitin Namdeo
40. "Simplicity, harmony, and kindness are the key qualities of a wise man." – Nitin Namdeo
41. "Complexity can only be broken with the weapon of simplicity." – Nitin Namdeo
42. "Complexity leads to chaos; simplicity is the way to happiness." – Nitin Namdeo
43. "Whatever is simple and appropriate is natural. Complications are the product of the stupidity of an intelligent man." – Nitin Namdeo
44. "Choose simplicity over complexity, peace over anger." – Nitin Namdeo
45. "Simplicity in life brings beauty in character." – Nitin Namdeo
46. "Greatness comes from simplicity in thoughts and character." – Nitin Namdeo
47. "Living a life of simplicity is not a preaching of spirituality but about living life in its original form." – Nitin Namdeo
48. "Make it simple, make it attractive." – Nitin Namdeo
49. "Less is more, simple is beautiful." – Nitin Namdeo
50. "A simple life is not a simple life." – Nitin Namdeo
51. "Simple living, high thinking." – Mahatma Gandhi
Simplicity Quotes Images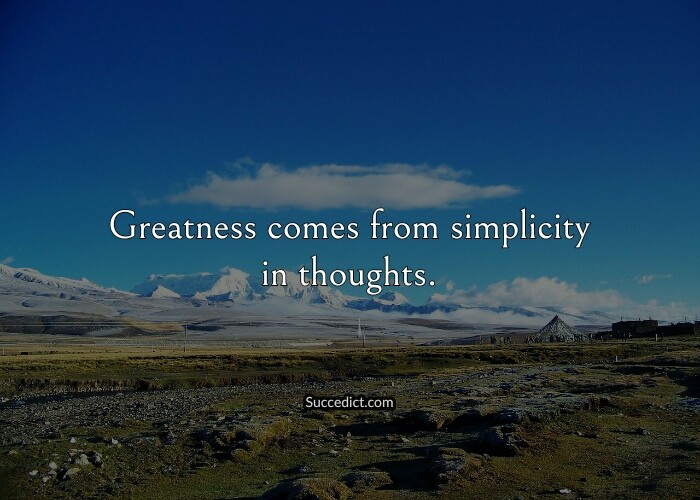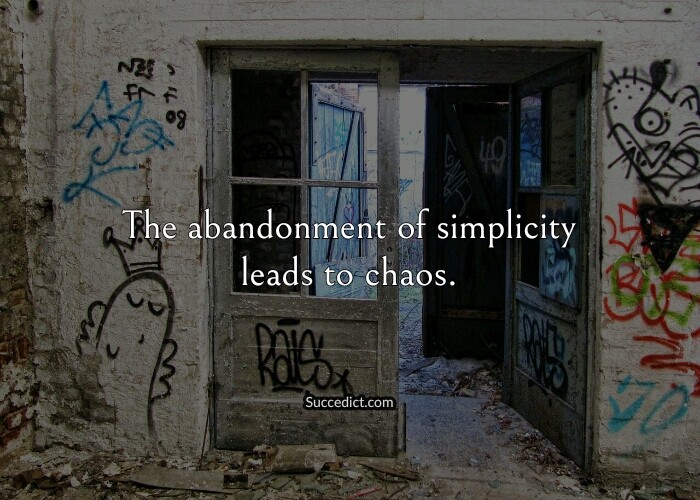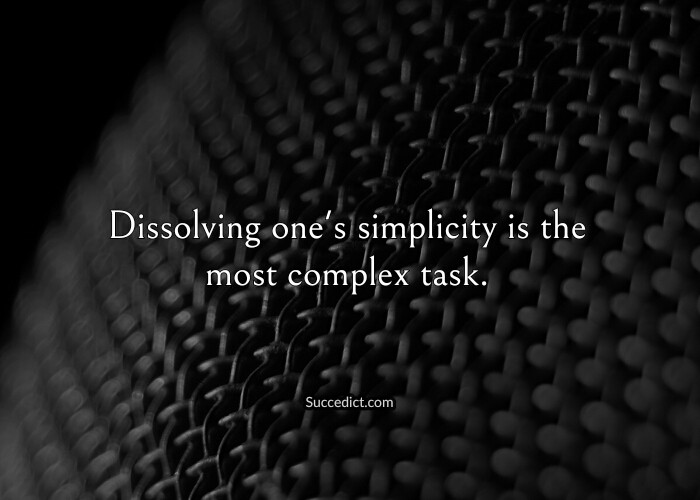 Also Read:
Share This: