Are you stuck at a certain point in life and wondering why things aren't working out for you? If you're experiencing this feeling right now, then you'll definitely love this collection of quotes on persistence. They speak volumes about our inner strength and determination.
Persistence is defined as continuing to try until success is achieved. In other words, persistence means staying focused on a goal despite obstacles. If you want to achieve something, you'll need to persist through challenges and setbacks.
Here are some inspirational quotes about persistence. They might motivate you to continue striving toward your goals.
You've got to be persistent in the face of adversity.

– Nitin Namdeo
Persistence Quotes
1. "It's only through persistent effort that great things are achieved." – Nitin Namdeo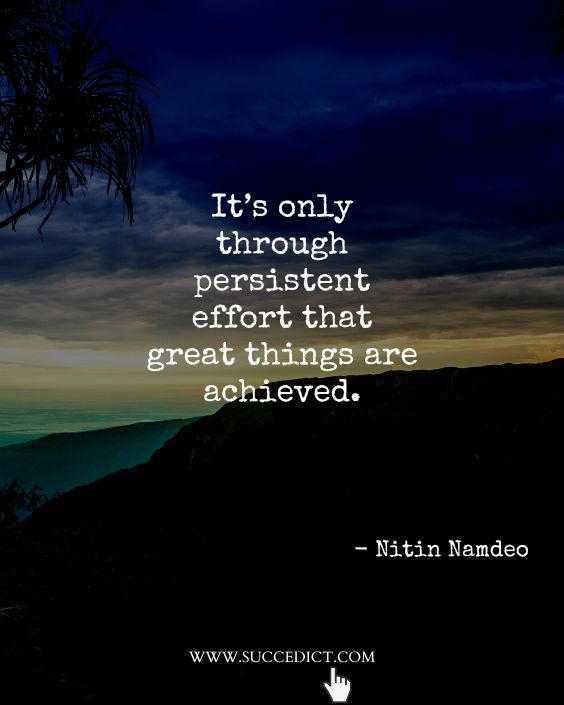 2. "The value of persistence is higher than the value of intelligence." Nitin Namdeo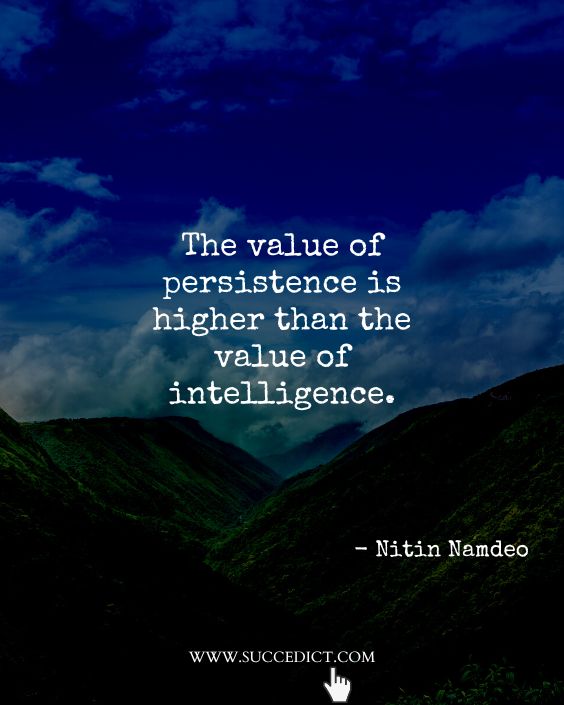 3. "Persistence is the ability to keep trying even when things seem hopeless." Nitin Namdeo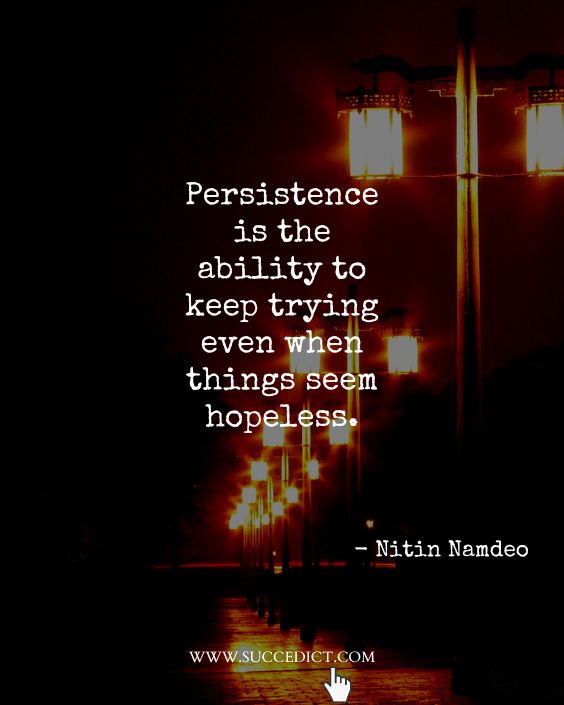 4. "You don't have to be a rock star to make it in this world. You just need perseverance." Nitin Namdeo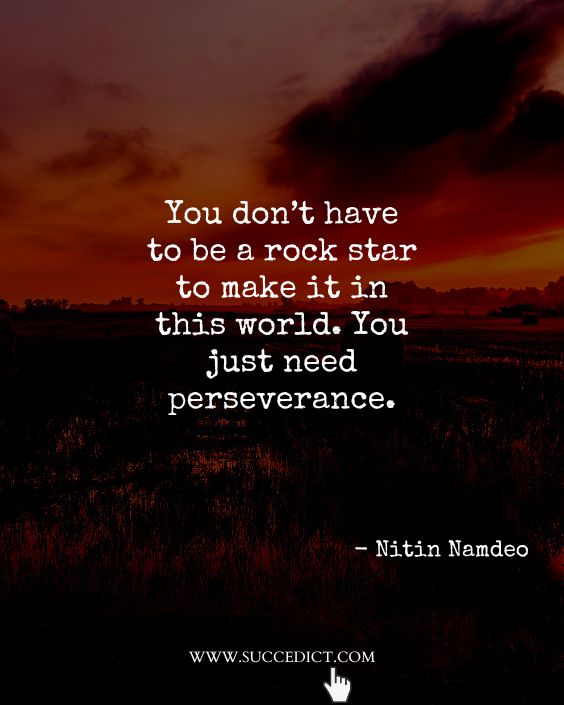 5. "The difference between ordinary and exceptional is that little extra effort." Nitin Namdeo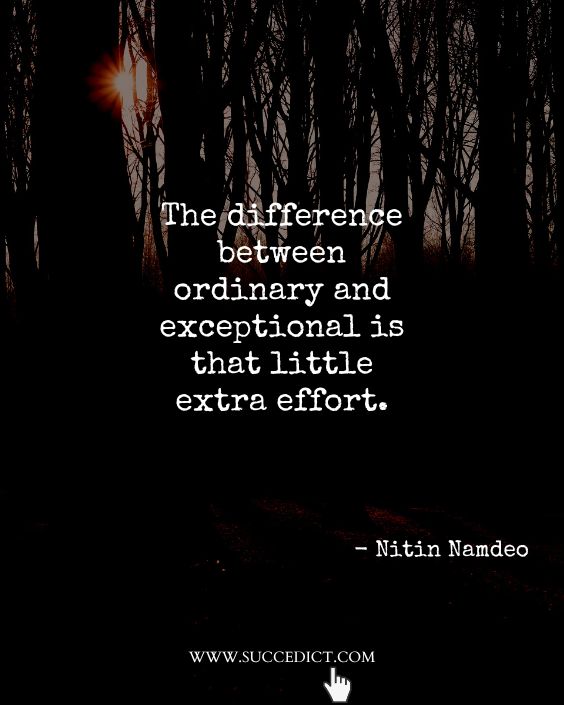 6. "Through persistence, an ordinary man achieves extraordinary goals." Nitin Namdeo
7. "If you do not try something and persist in it, you will never know how well you can do." Nitin Namdeo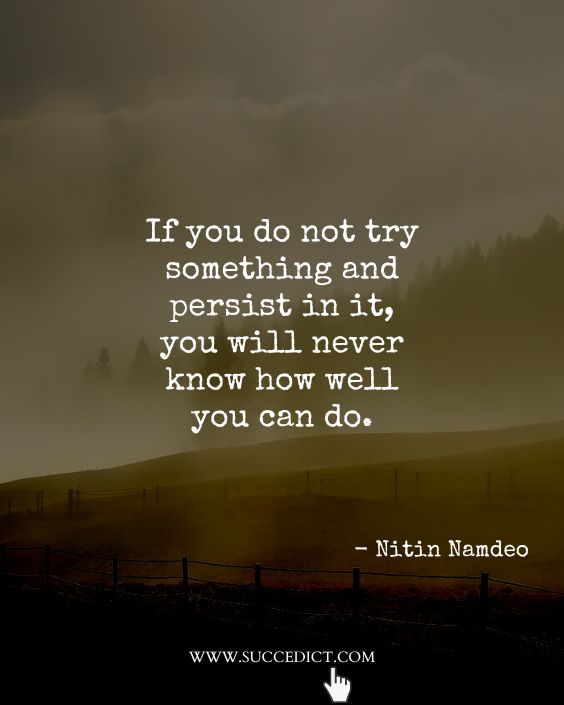 8. "Persistence is more than just the ability to stick with a task. It's about the willingness to keep trying and learning as you go." Nitin Namdeo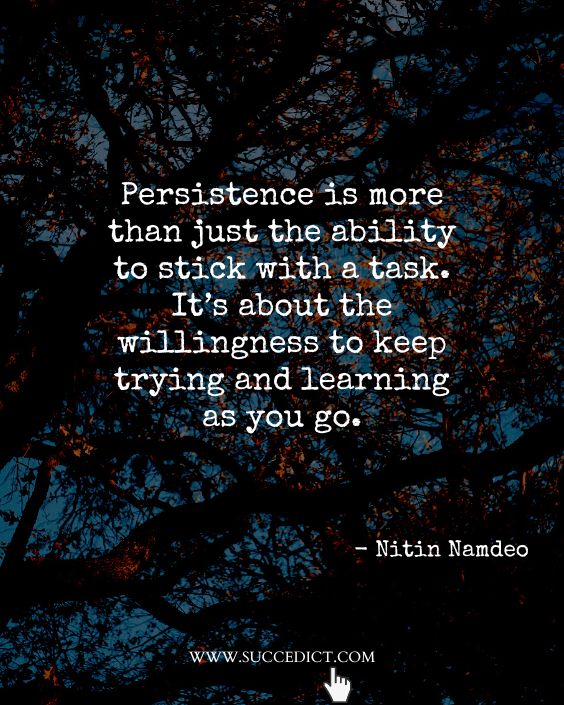 9. "Persistence is the hardest thing to teach someone." Nitin Namdeo
10. "Persistence is key. It will help you get what you want, achieve your goals and ultimately become who you want to be." Nitin Namdeo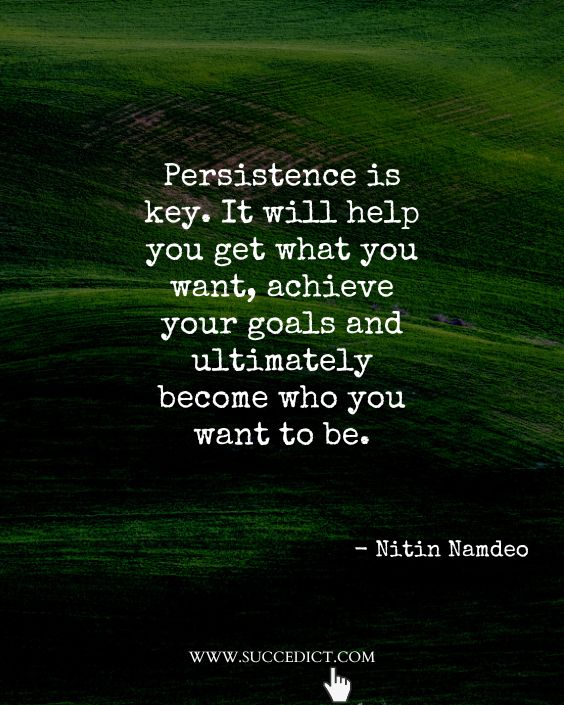 Also Check: Quotes About Mindset
Inspiring Quotes about Perseverance
11. "Patience, persistence and perspiration make an unbeatable combination for success." – Napoleon Hill
12. "Success is almost totally dependent upon drive and persistence. The extra energy required to make another effort or try another approach is the secret of winning." – Denis Waitley
13. "Knowing trees, I understand the meaning of patience. Knowing grass, I can appreciate persistence." – Hal Borland
14. "Success is about persistence. You can only afford to be persistent in something you deeply enjoy." – Cenk Uygur
15. "Persistence and endurance will make you omnipotent." – Casey Neistat
16. "Through persistence, you can be one of those happy, victorious people who not only chase dreams, but who catches them!" – Catherine Ponder
17. "Never consider the possibility of failure; as long as you persist, you will be successful." – Brian Tracy
18. "The moment you feel like quitting is the time you need to keep on going. Persistence fuels genius." – Robin Sharma
19. "Persistence overshadows even talent as the most valuable resource shaping the quality of life." – Tony Robbins
20. "The keys to success are patience, persistence, and obsessive attention to detail." – Jeff Bezos
Also Check: Quotes About Moving Forward
Persistence Quotes for Students
21. "Persistence is the iron quality of success; if you persist long enough you must eventually succeed." – Brian Tracy
22. "For great things do not just happen by impulse, but are a succession of small things linked together." – Vincent Van Gogh
23. "Thankfully, persistence is a great substitute for talent." – Steve Martin
24. "Ambition is the path to success. Persistence is the vehicle you arrive in." – Bill Bradley
25. "What is often called exceptional ability is nothing more than persistent endeavor." – Pauli Murray
26. "Do it badly; do it slowly; do it fearfully; do it any way you have to, but do it." – Steve Chandler
27. "A little more persistence a little more effort, and what seemed hopeless failure may turn into a glorious success." – Elbert Hubbard
28. "A river cuts through rock, not because of its power, but because of its persistence." – Jim Watkins
29. "The key of persistence will open up any door that has been closed by resistance." – John Dilemme
30. "It's only those who are persistent and willing to study things deeply, who achieve the master work." – Paulo Coelho
Also Check: Quotes About Adversity
Persistence Quotes for Business
31. "Countless great ideas are at this moment gathering dust in files and boxes simply because their owners didn't stick with them." – Sam Harrison
32. "The majority of men meet with failure because of their lack of persistence in creating new plans to take the place of those which fail." – Napoleon Hill
33. "Genius is one percent inspiration and ninety-nine percent perspiration." – Thomas Edison
34. "Persistence is the most traveled path to success." – Bryant McGill
35. "You can't expect to succeed if you only put in work on the days you feel like it." – Unknown
36. "Persistence can grind an iron beam down into a needle." – Chinese Proverb
37. "If you are persistent you will get it. If you are consistent you will keep it." – Unknown
38. "Success is not the absence of failure; it's the persistence through failure." – Aisha Tyler
39. "To persist with a goal, you must treasure the dream more than the costs of sacrifice to attain it." – Richelle E. Goodrich
40. "Every obstacle in life can be melted by your undying persistence focus on the goal at hand." – Daniel Anikor
Also Check: Quotes About Progress
Persistence Quotes That Will Inspire You to Never Give Up
41. "If you want to succeed as an entrepreneur, you have to be in it like a maniac." – Nitin Namdeo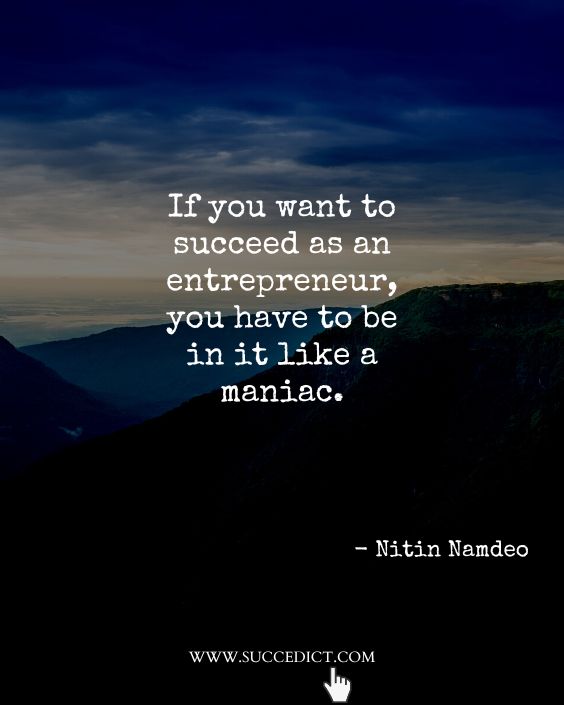 42. "The only thing that makes a true soldier, is discipline and perseverance." – Nitin Namdeo
43. "You just have to push through the barrier of what other people say is possible and find the internal strength that makes you unstoppable." – Nitin Namdeo
44. "The habit of persistence is the habit of victory." – Unknown
45. "If you have infinite patience and perseverance, success is bound to come. No mistake in that." – Swami Vivekananda
46. "Persistence is to the character of man as carbon is to steel." – Napoleon Hill
47. "Success comes from curiosity, concentration, perseverance and self criticism." – Albert Einstein
48. "Great works are performed not by strength but by perseverance." – Samuel Johnson
49. "Persistence can change failure into extraordinary achievement." – Matt Biondi
50. "There is no magic to achievement. It's really about hard work, choices, and persistence." – Michelle Obama
51. "To begin is easy, to persist is art." – German Proverb
Also Read:
Share This: